This post may contain affiliate links which won't change your price but will share some commission.
This week's real food meal plan for picky eaters includes salmon cakes, guacamole and waffles. What could be better?! Life is getting busy on the farm so it's easy, nourishing meals all week long.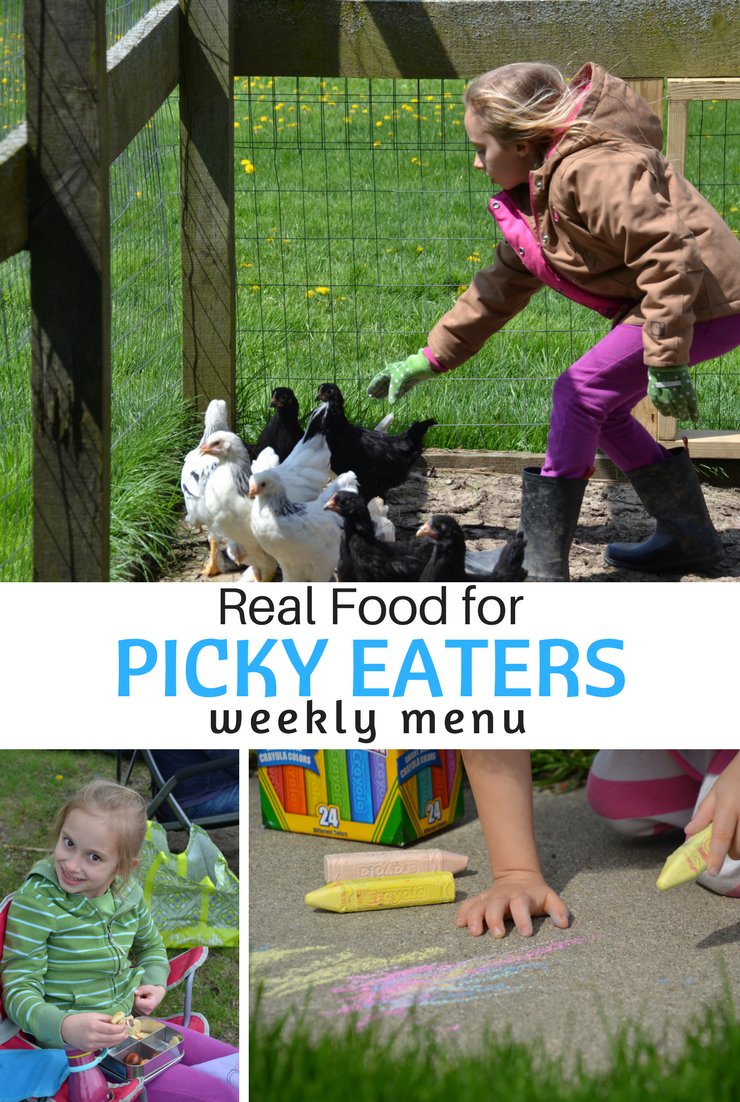 It's almost May…hopefully that means the rain ends soon and we get lots of sun!! We're ready for more May flowers.
Let the Farming Begin!
This is an exciting week as we just moved our chickens outside to their coop. The garden is well under way too. It's actually starting to feel like a working farm! And we're all loving it.
We've got another busy, but fun week. We're taking a little train ride and checking out a new home school co-op. The kids are very excited.
No Picky Eaters?
I'm trying to be a little creative in the kitchen this week with some different meals. I'm putting my "not picky eaters" to the test. Will they like liverwurst and lentils for dinner? We'll see!
If you haven't grabbed your copy of the Ultimate Homemaking Bundle do it today! After tomorrow it's GONE. Over $2,000 worth of resources and bonuses for less than $30. It really doesn't get any better.
Have a blessed week with lots of nourishing food. What's on your menu? Anything new or exciting?
Sunday
B – toast with sunbutter, smoothies
L – crockpot roast chicken, rice, peas
D – avocado chicken salad, peppers and cucumbers with dip
prep: make graham crackers, bake bread
notes:
Monday
B – yogurt, granola, fruit
D – squash and sausage soup, muffins
prep:
notes: prep ahead dinner
Tuesday
B – scrambled eggs, toast, fruit
D – salmon cakes, roasted cauliflower and Brussels sprouts
prep: make hummus
notes:
Wednesday
B – salmon, roasted cauliflower
D – black eye peas, liverwurst, rice, spinach
prep:
notes:
Thursday
B – toast with sunbutter, smoothies
D – red lentil soup, crackers with cheese
prep:
notes:
Friday
B – yogurt, granola bars
D – sausage, chips with guacamole, clementines
prep:
notes: dinner at t-ball game
Saturday
B – fried eggs, toast, avocado
D – waffles, bacon, roasted cabbage
prep:
notes: