This post may contain affiliate links which won't change your price but will share some commission.
This week's real food meal plan for picky eaters includes sloppy joes, meatballs and creamed spinach (my daughter's request!). Hopefully it will also include a shift to summer weather!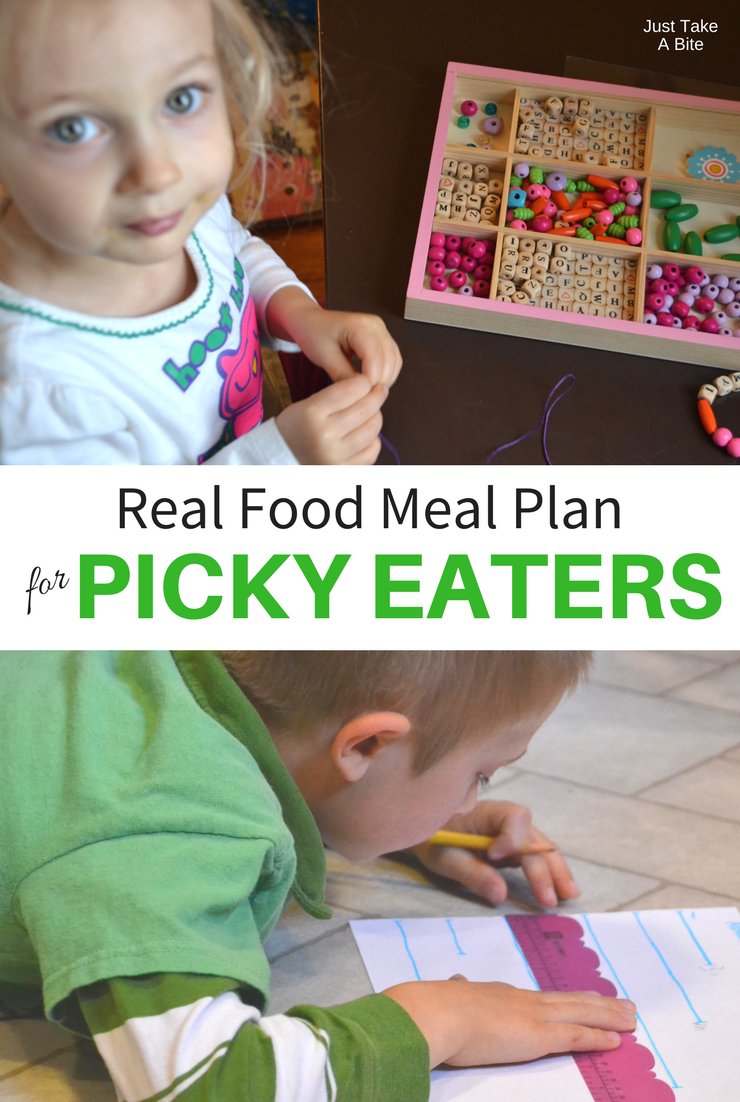 It feels good to have everyone back to full health again and ready for a new week. We are using our holiday weekend to finish planting the garden and work on landscaping…when it's not raining, anyway.
Looking Ahead
We took some time last week to plan our summer activities, next year's curriculum and next year's activities. It's exciting and overwhelming at the same time. But I'm determined to be a bit more prepared as we head into our second year of homeschooling.
Since we are doing school year round we don't have a specific starting and stopping point. I asked my kids if they wanted to "switch grades" in June or August. They chose June. So by the end of the week I'll have a first grader and a fourth grader!!
Summer Cooking School
One of the things I know we are doing during our summer session is taking a whole week to focus on Kids Cook Real Food and learn new skills in the kitchen. My kids have made great progress this year, but I want even more independence. Have you invited your kids into the kitchen lately? It can be hard to find the time, but it is SO important! You can learn more about Kids Cook Real Food HERE.
Time for a Plan!
The other exciting event this week is our HTMA (hair tissue mineral analysis) consults!!! I can't wait to really dig into the information and get a plan of action. I'll be sure to keep you updated.
Here is our real food meal plan for picky eaters for the week. Some grilling, some staple recipes and more experimenting. What's on your menu?
Sunday
B – cereal, smoothies
L – crockopot roast beef, carrots, roasted potatoes
D – grilled steak, beans, baked sweet potatoes
prep: make granola bars
notes:
Monday
B – yogurt, granola bars
D – grilled burgers, grilled asparagus, chips with dip
prep: prep smoothies, make chip dip, boil eggs, chop veggies
notes:
Tuesday
B – toast with sunbutter, smoothies
D – sloppy joes, roasted purple cabbage, baked potato wedges
prep: bake bread
notes:
Wednesday
B – hard boiled eggs, toast
D – crockpot sweet and sour meatballs, buttered noodles, cauliflower
prep:
notes:
Thursday
B – bagel with cream cheese, fruit
D – broccoli egg bake (new recipe), peas, hashbrowns
prep:
notes:
Friday
B – yogurt, granola bars
D – crackers with cheese and ring balogna, veggies with dip, clementines
prep:
notes: packed dinner
Saturday
B – scrambled eggs, toast
D – bacon grilled cheese OR BLTs (kids decide), creamed spinach (new recipe), home canned peaches
prep:
notes: