This post may contain affiliate links which won't change your price but will share some commission.
Ready to think summer? This no mixer required bananas foster ice cream is sure to help! So easy to make and free of grains, eggs and nuts.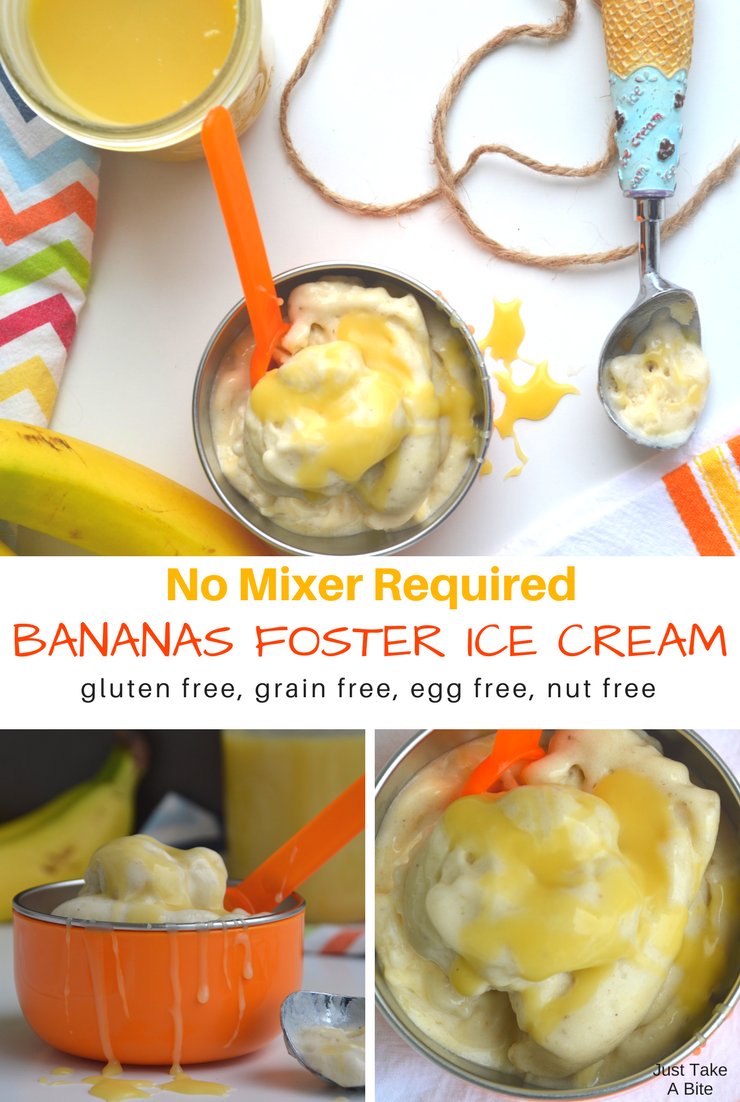 Summer is just around the corner. I keep telling myself that so when it's forty degrees in May I don't get too discouraged. A couple days of eighty degrees before the forty sure helped too.
One great way to start thinking summer is with ice cream! If you've followed me very long you know ice cream is my absolute favorite food. At least these days I don't eat nearly as much as I used to and most of the ice cream I do eat is homemade. It's all about the baby steps!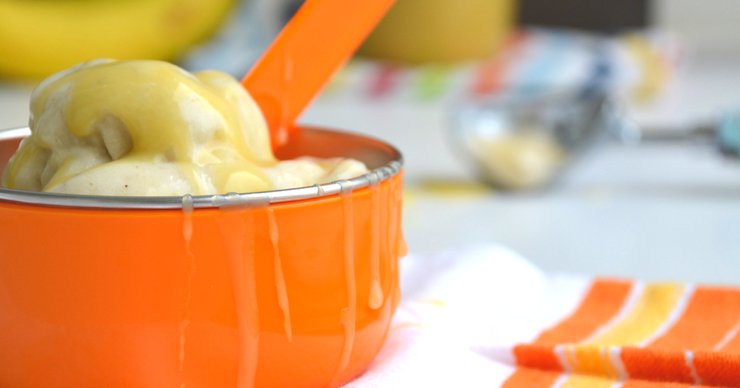 Make it Real
I recently bought some ice cream for my husband – a limited edition flavor – bananas foster. I tasted it. Wow, was it sweet!! Good, but sweet. It reminded me of egg nog.
My kids (and I) were a bit jealous, so I made our own version. This homemade bananas foster ice cream is loaded with banana flavor – because it is mostly pureed bananas! Then I swirled in some homemade caramel sauce for the "foster" taste. You could really bump up nutrition and save time by using this metabolism boosting caramel with liver!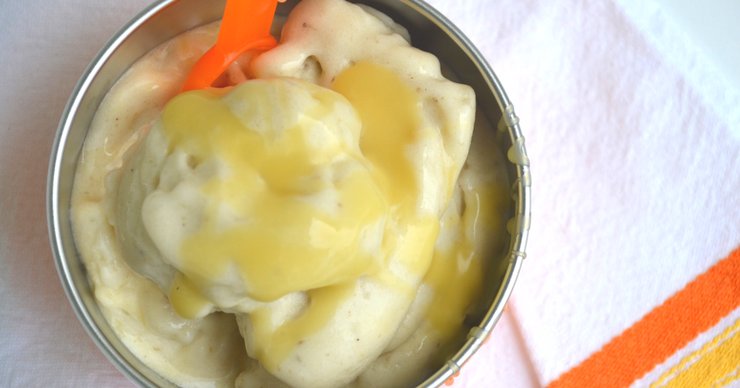 You can add homemade vanilla wafers for great texture. I didn't have any on hand…but I can't wait to try it some time!
A little pinch of nutmeg really makes this bananas foster ice cream stand out.
Feel free to make your version with as much or as little sweetener as you like. The bananas add plenty of sweetness on their own as long as they are really ripe. But a tablespoon or two of maple syrup added to them is just right for us.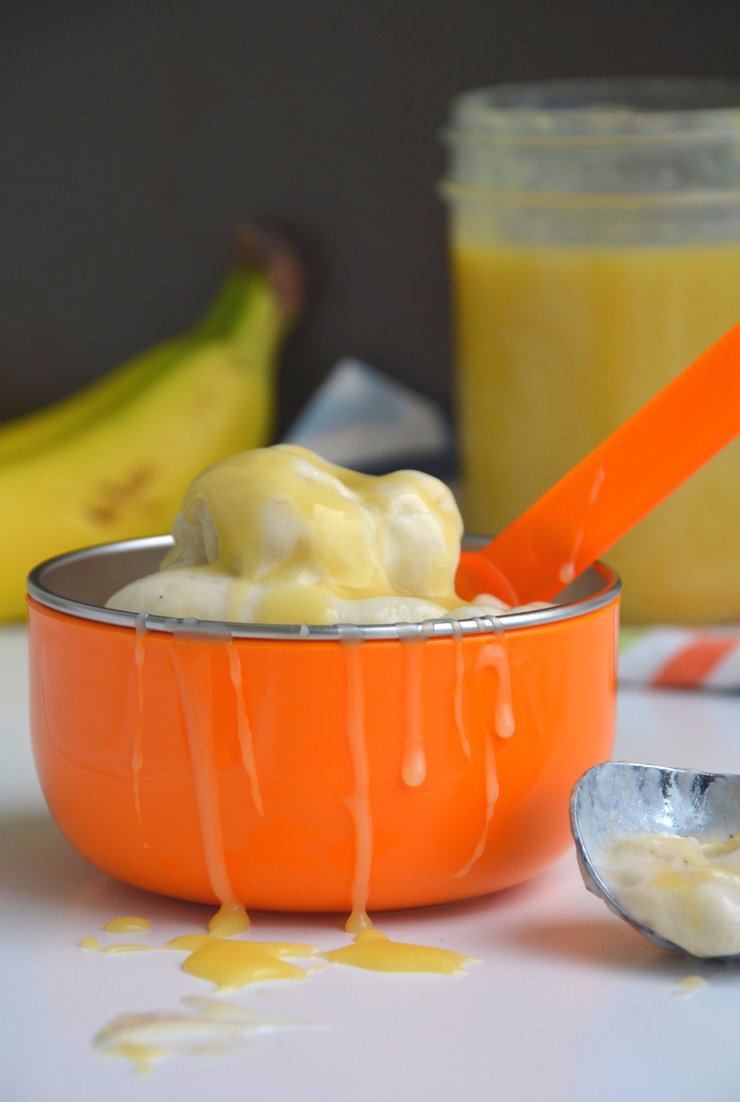 Quick and Easy
One of the best parts of this ice cream is that there is no ice cream mixer required. You do have to make the caramel and freeze the bananas in advance. But once you're ready the ice cream comes together in minutes and is ready to eat.
And if you want to make it even easier just skip the caramel. Banana ice cream tastes amazing on its own. It also makes a great dairy free alternative to ice cream.
Are you thinking summer already? Give this bananas foster ice cream a try. What's your favorite flavor?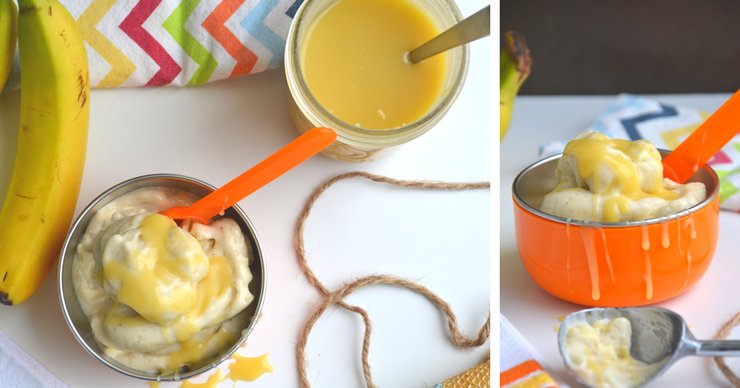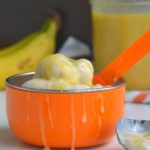 No Mixer Required Bananas Foster Ice Cream
2017-05-21 07:04:52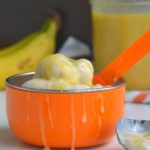 Serves 6
A creamy banana ice cream with swirls of caramel.
Ingredients
6 very ripe bananas
2 - 4 Tbsp. maple syrup or honey (optional)
1/4 - 1/2 tsp. unrefined sea salt
3 - 4 Tbsp. caramel sauce
1/8 tsp. ground nutmeg (optional)
1/4 cup vanilla wafers, crumbled (optional)
Instructions
Prepare the caramel. Refrigerate.
Slice the bananas and freeze on a parchment lined baking sheet in a single layer.
Combine the frozen bananas, maple syrup, salt and nutmeg in a food processor. Blend until smooth (this will take a few minutes and you may have to scrape down the sides multiple times).
Transfer the ice cream to a freezer safe container.
Gently mix in the caramel and vanilla wafers.
Serve or freeze.
Notes
To make this dairy free simply leave out the caramel sauce. Banana ice cream tastes wonderful on its own!
The caramel sauce can be made dairy free using coconut oil and coconut milk.
Just Take A Bite https://justtakeabite.com/