This post may contain affiliate links which won't change your price but will share some commission.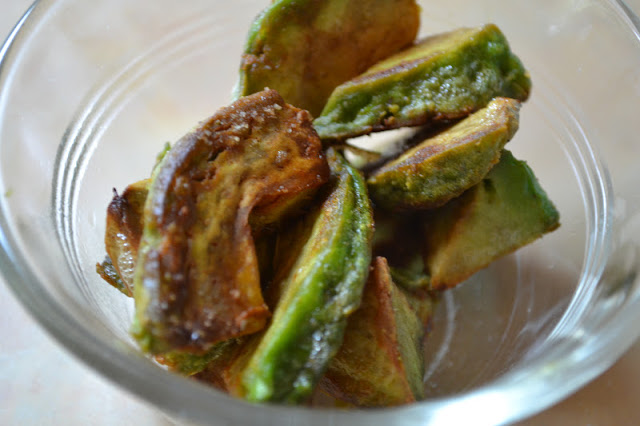 I once heard a chef on tv (I won't mention names) say you should NEVER cook avocado. Boy was she wrong!!! I cook avocados all the time. They are delicious!
Years ago while doing the GAPS diet I got very creative with avocados. I put them in soups, on salads, blended them in smoothies, added them to eggs, used them for "bird's nests," all kinds of stuff.
The Best Way to Serve Avocado
Although smashed avocado with a generous helping of Real Salt scooped with organic corn chips or raw veggies is pretty amazing, there is another version of avocado that tops my list.
My favorite way to serve avocado is to fry it in a pan to create avocado fries!
I use either butter or coconut oil and plenty of unrefined sea salt.
The result? Golden, crispy, salty outsides with rich, creamy insides. This is like heaven for an Analytical Eater (find out if that's you HERE).
Avocado Fries
Avocado fries are like french fries…but much healthier.
They contain tons of good fat, vitamins, and minerals (did you know avocado is high in potassium?). You can eat the avocado fries plain or dip them in ketchup, pesto, hummus, or honey mustard. Really they are good dipped in pretty much anything.
Eat them like fries or use them to top a salad (like croutons).
How to Increase Healthy Fat in Your Child's Diet
I like avocado fries as part of an easy to prep lunch. I just toss them in the pan and let them cook while I get the other food prep done.
Avocado fries make great finger food for toddlers. And they are a fun way to get healthy fat into any child's diet.
There isn't much to cooking avocado. Simple, delicious, nutritious. My favorite food trifecta!
Give avocado fries a try. You'll be glad you did. If someone ever tells you not to cook avocados…ask them if they've tried avocado fries.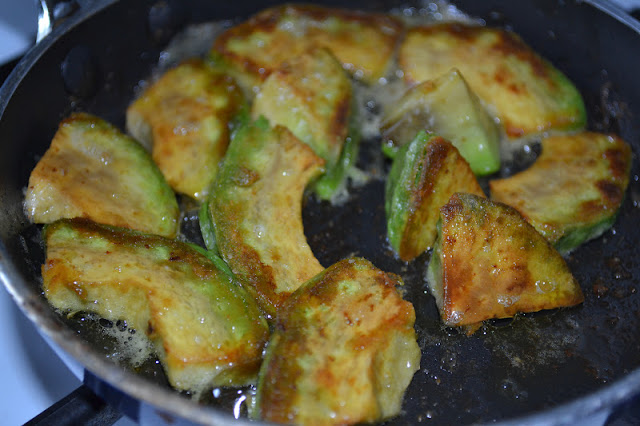 Quick Avocado Fries
Ingredients
1/2

avocado

sliced lengthwise

1

Tbsp.

butter or coconut oil

Pinch

unrefined sea salt

to taste
Instructions
Heat a small skillet over medium heat. When hot add the butter/coconut oil.

Add sliced avocado (the thickness just depends on your taste). Sprinkle with salt. Let cook on the first side until golden and crispy, about 5-7 minutes.

Flip and repeat with the other side. Add extra salt if necessary.
Recipe Notes
Don't waste the salty butter in the pan. Use it on bread or to cook some greens.
This post is linked to Fat Tuesday and Real Food Wednesday and Fresh Bites Friday and Fight Back Friday.