This post may contain affiliate links which won't change your price but will share some commission.
I love to recreate conventional foods and turn them into healthy, real food treats. And lately I've been making gluten free creations. My most recent experiment is Nutter Butters.
I loved Nutter Butters when I was younger. But I haven't had one in many, many years. A crunchy cookie with a peanut buttery filling. That can't be too hard to create, right? Right.
These turned out very well. Two thumbs up from the family. And they can be harsh critics sometimes 😛
To my surprise I made the cookie part without peanut butter! You can add some if you like a stronger peanut flavor. But they are great without it.
This is a simple recipe that results in a delicious treat! These cookies are gluten and egg free. You can substitute coconut oil for the butter to make them dairy free as well. But you might need to add peanut butter to the cookie then. I haven't quite figured out how to make the filling taste like peanut butter without nuts. I'll have to work on that 🙂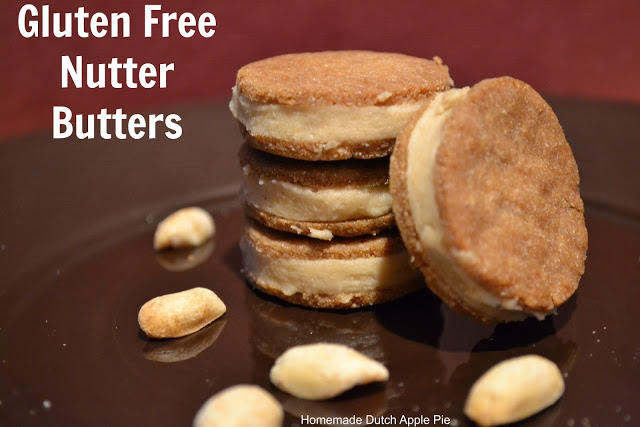 Gluten Free Nutter Butters
Cookie:
1 cup white rice flour
1/2 cup tapioca flour
1/2 cup amaranth flour
1/2 cup organic cane sugar
1/2 tsp. baking soda
1/2 tsp. salt
6 Tbsp. maple syrup
6 Tbsp. melted butter (optional – replace some of the butter with peanut butter or replace the butter with a combination of coconut oil and peanut butter)
1 tsp. vanilla
2 Tbsp. water
Filling:
1/4 cup organic palm shortening
1 Tbsp. natural peanut butter
1 Tbsp. maple syrup
1/4 cup tapioca or white rice flour
DIRECTIONS
Cookie:
Heat oven to 350 degrees.
Combine the flour, sugar, syrup, soda, salt, butter and vanilla. Slowly add water until the dough will hold together when squeezed with your hands.
Roll half of the dough between two pieces of parchment paper until about 1/8″ thick. Cut into desired shape. Transfer to a parchment lined baking sheet. Repeat until all of the dough is used.
Bake for about 15 minutes, until golden. Let cool completely.
Filling:
In a small bowl mix the shortening, peanut butter, syrup and flour. Adjust peanut butter and syrup to taste. Add extra flour if the filling is too thin.
Assembly:
Place a small amount of filling on a cookie. Place another cookie on top and press down just until the filling reaches the edge. Repeat for all cookies. Refrigerate to allow the filling to get firm.
Store in a container in the refrigerator or freezer.