This post may contain affiliate links which won't change your price but will share some commission.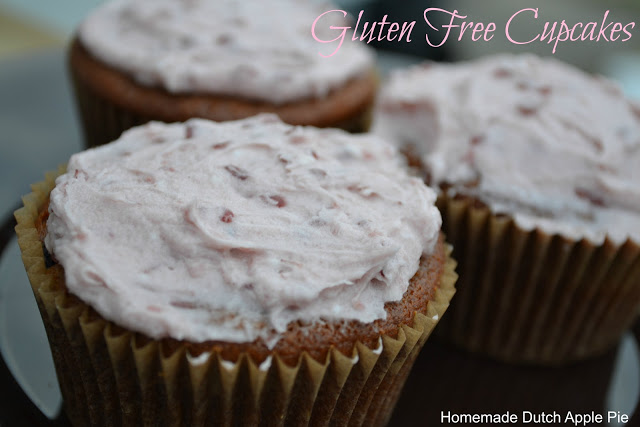 As we continue to experiment with a gluten free diet I want to be sure my daughter doesn't feel like everything is being taken away. She is very sensitive about that. So I'm trying to make plenty of homemade treats that are safe and I feel good about feeding her.
Yesterday I decided to try making muffins. They ended up being a cross between muffins and cupcakes. I made some with blueberries and some without. I also added a raspberry frosting to some of them.
Each variety was a hit with everyone! Even my one-year old that will hardly eat sweets scarfed down three of these!
You can increase the sweetener a little to make them more like traditional cupcakes. You can decrease the sweetener a little to make them more like muffins. Or follow the recipe as is and call them what you want 🙂 It just depends on your taste buds/how much sweetness you are used to.
Part way through eating her cupcake my daughter asked if her birthday cake would be gluten free. I said I didn't know, but asked she thought it should be. Her response: "Yes!!!" I think she can even tell that she feels better eating this way. My wise beyond her years four-year old 🙂
One last benefit of these…they are soaked!! So they are even easier on your tummy. A perfect breakfast, brunch or birthday treat.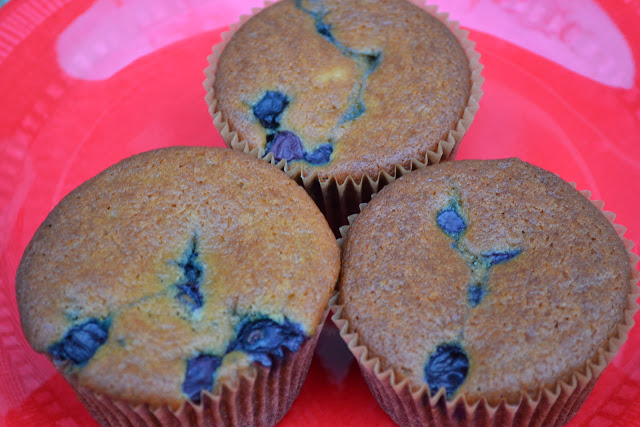 Gluten Free Soaked Muffins/Cupcakes
makes 12 muffins
1 cup white rice flour
1/2 cup amaranth flour
1 cup soaking liquid (water + 2 Tbsp. lemon juice OR buttermilk OR kefir OR any combination to equal 1 cup total)
1/2 cup organic cane sugar
2 Tbsp. maple syrup
1 tsp. vanilla
1/2 tsp. salt
1 tsp. baking soda
1 egg
1 1/2 Tbsp. melted better or coconut oil
optional mix-ins: blueberries, raspberries, cinnamon and raisins, chopped nuts and chocolate chips
DIRECTIONS
Combine the flour and soaking liquid. Cover and let sit 7-24 hours.
Heat oven to 325.
Add remaining ingredients to the flour mixture. Add nuts, raisins, chocolate chips or spices if desired. If using fruit do not add it to the batter.
Fill paper lined muffin cups 3/4 full. Add fresh or frozen fruit to the top of batter if desired.
Bake for 45 minutes.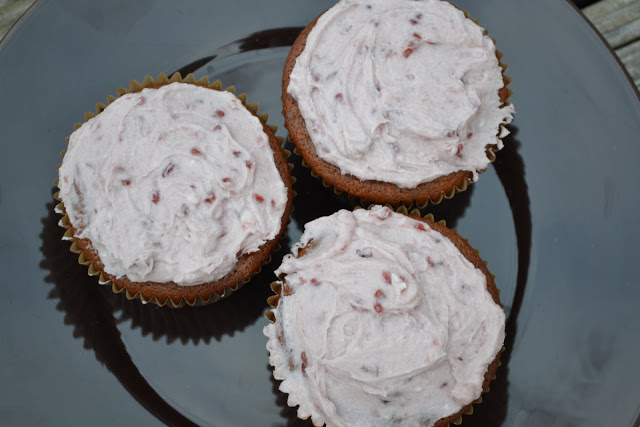 Raspberry Frosting
1/2 cup organic palm shortening
1/2 cup tapioca flour or white rice flour
2-4 Tbsp. organic raspberry jam
1 Tbsp. maple syrup
Mix all ingredients together. Adjust the jam and syrup to taste. Spread on cooled cupcakes.
I just had to add the photos of my kids devouring these. They didn't actually eat the wrappers…but almost 🙂 They didn't want to miss a crumb.