This post may contain affiliate links which won't change your price but will share some commission.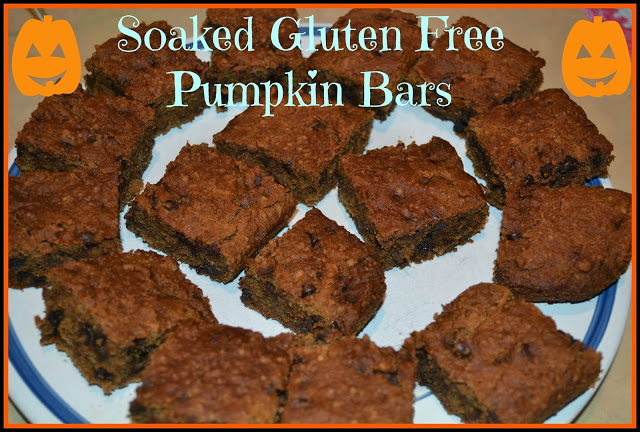 Fall is in full swing. That means it's time for pumpkin recipes! I used to not like anything pumpkin. At all.
Now that I eat real food my palate sure has changed. I love just about anything pumpkin. Even pumpkin pie (up until a few years ago one bite of that at Thanksgiving was more than I needed for a year)!
These bars are simple to make. They are easy on your tummy. They are free of a lot of allergens. And they taste like fall.
Do you enjoy pumpkin-flavored treats? What is your favorite way to use pumpkin?
Soaked Gluten Free Pumpkin Bars
1 cup amaranth flour*
1/2 cup teff flour* (or amaranth or white rice)
1/2 cup tapioca flour*
1/3 cup lemon water (2 Tbsp. lemon juice + water to equal 1/3 cup)
1/3 cup coconut oil*, melted
1/2 tsp. cinnamon and nutmeg or pumpkin pie spice
1/2 tsp. cream of tartar
1/2 tsp. sea salt
1 tsp. baking soda
1/2 cup pureed pumpkin or squash
5 Tbsp. organic cane sugar, sucanat or coconut sugar*
1/4 cup honey
1/3 cup mini chocolate chips* (optional)
Combine the flours, lemon water and coconut oil. Cover and let sit for 7-24 hours.
Heat oven to 350 degrees. Grease an 8″ or 9″ square baking pan.
Add the remaining ingredients (except chocolate chips) to the flour mixture. Mix well with a hand mixer or stand mixer. Stir in the chocolate chips.
Spread the batter in the pan.
Bake for 25 minutes. Allow to cool about 10 minutes. Cut into squares.
Serve fresh or store in the refrigerator.
*These are affiliate links. It will not change the cost for you if you buy through the link, but I will get a small commission. It helps me earn a small amount to keep putting in the time and effort to do what I do 🙂