This post may contain affiliate links which won't change your price but will share some commission.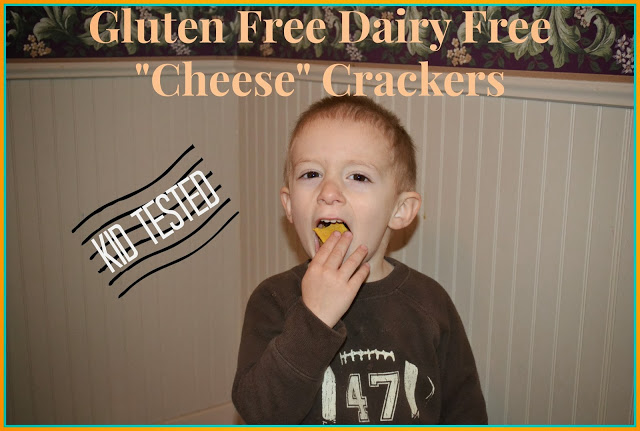 I do my best to make homemade snacks for my kids. It used to be pretty easy. Then we went gluten free. A little more challenging, but not that big of a deal. Now that my son is also dairy, almond, egg and rice free it gets even harder.
So I had to create a cracker that he could eat…that actually tastes good…and isn't made with weird cheese substitutes. I came up with a dairy free version of my cheese crackers.
They look cheesy and taste cheesy. But it's really just squash and salt. But please don't tell my two year old that! He loves them. And as long as he doesn't hear the word squash, he'll devour them. Literally. I could hardly even take a picture because he wanted the entire plate of crackers.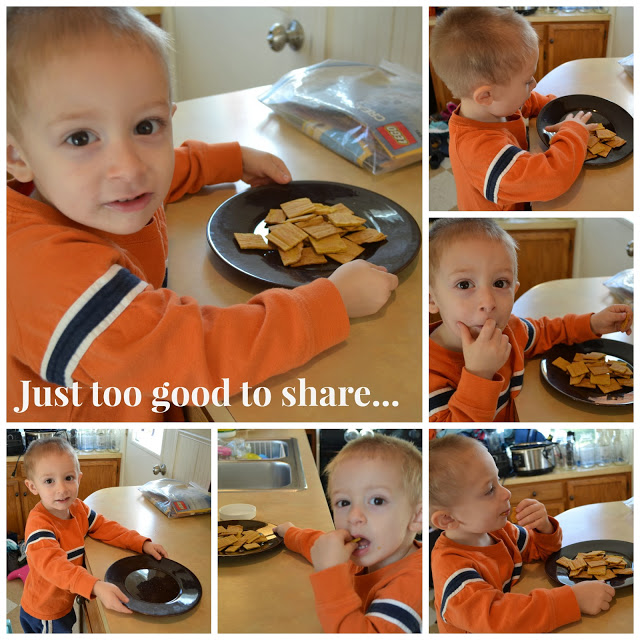 These crackers aren't just for people with a dairy allergy. They are great for anyone looking for a healthy, homemade snack. They really are delicious! The whole family really enjoys them.
Homemade crackers are an easy snack to keep on hand. They take about 10 minutes to prepare. And you can add any seasoning you like for variety. It doesn't hurt that they have vegetables in them either. It is a healthy snack that makes everyone happy.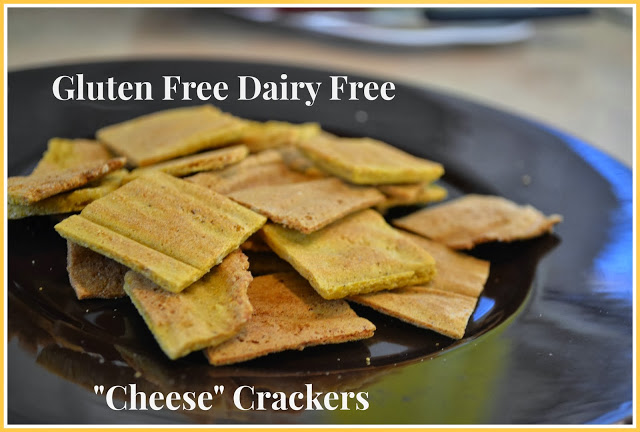 Gluten Free Dairy Free "Cheese" Crackers
3/4 cup any combination of gluten free flour (I use amaranth and sorghum)
1/4 cup tapioca flour
(you can substitute 1 cup or organic whole wheat or all purpose flour if you aren't gluten free)
1/2 tsp. sea salt
1/4 tsp. baking soda
1/2 tsp. organic cane sugar or coconut sugar
1 Tbsp. coconut oil, melted
4 Tbsp. pureed squash (or pumpkin, sweet potato or carrot)
1 Tbsp. water
Heat oven to 350 degrees F. Cut two pieces of parchment paper the size of a baking sheet.
Combine the flours, salt, soda and sugar. Mix. Add the coconut oil and squash. Mix well. If the dough does not hold together gradually add water until the dough just comes together. The best way to check is to work the dough with your hands a little.
Once a ball of dough is formed, place it on a piece of parchment paper. Place the other piece of parchment paper on top. Roll the dough until it fills most of the paper/until it is about 1/4″ thick.
Remove the top piece of parchment paper. Cut the dough into squares with a pizza cutter or knife (you can also use cookie cutters to make shapes and transfer them to parchment lined baking sheet). Slide the parchment paper with the crackers onto a baking sheet.
Bake for 20 – 25 minutes, until starting to get golden and crisp. Remove from the oven and allow the crackers to cool. They will get slightly crispier as they cool.
Store in an air tight container.
This post is linked to Fat Tuesday at Real Food Forager.