This post may contain affiliate links which won't change your price but will share some commission.
Skip the boxed granola bars loaded with HFCS and non-food like glycerin and was. Homemade crunchy granola bars made with soaked oats are easy and healthy!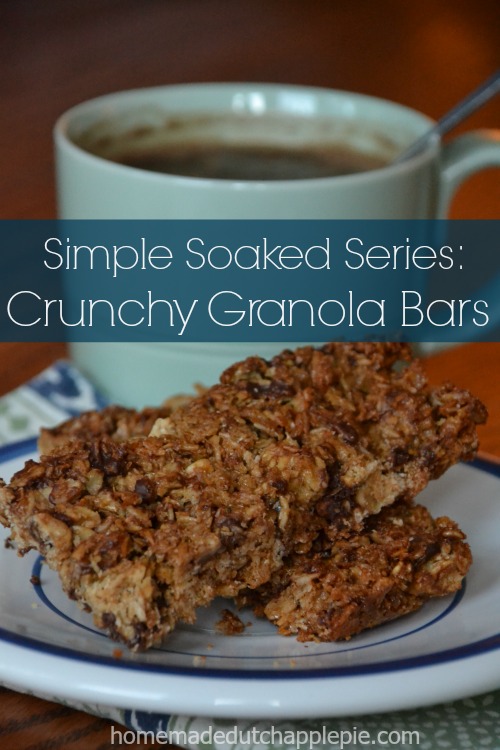 Next up in my simple soaked series is a staple in my house – granola bars! These are definitely a family favorite.
One batch of granola bars makes a big batch so you can stock the freezer for easy breakfasts and snacks. The really great thing about them is that you don't even have to thaw them! Just grab one out of the freezer and start eating.
Soaked Crunchy Granola Bars
I've made many different versions of granola bars over the years. But I haven't always prepared them the right way.
This version of granola bars uses soaked oats to reduce phytic acid content and make them easier on your tummy. The oats are first soaked and dried. You'll have to do this step in advance, so plan ahead. Then all you have to do is mix and bake. Homemade granola bars are so easy to make.
They are also very budget friendly! No need to pay for a box. Just make your own granola bars for a fraction of the cost…and get sixteen at a time instead of six. Making your own also means you decide on the flavor. Add any dried fruit, nuts, seeds and chocolate chips you like.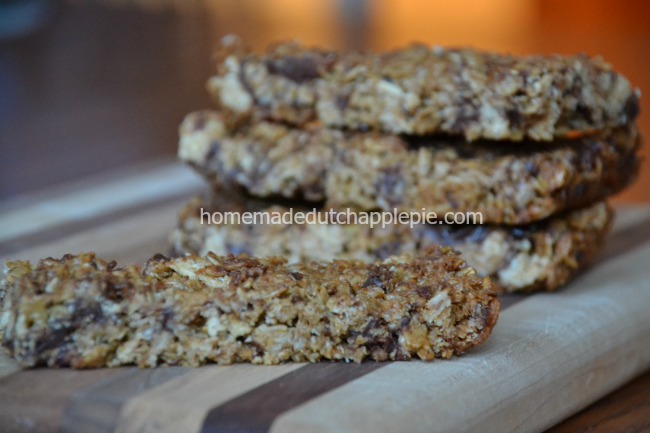 Allergen Free Granola Bars
The other unique thing about this recipe is that it makes crunchy granola bars. I grew up eating crunchy granola bars (anybody else remember the green package of the oats and honey flavor?). I've always like them better than chewy.
But most homemade granola bar recipes make chewy bars. So I've created a crunchy version. My kids like this better than chewy as well. Making crunchy granola bars also means you don't have to use any eggs. So they are naturally gluten, egg and nut free! They can also be made dairy free.
Easy Snack on the Go
Soaked crunchy granola bars hold up really well. There is no need to refrigerate them to make them stay together. You can easily pack them in a lunch or even toss them in a diaper bag when you're on the go.
I like to make a big batch and wrap them individually. I store them in the freezer and take individual bars out as needed.
A crunchy granola bar pairs well with whole yogurt drizzled with honey, fruity yogurt, eggs or even a handful of crispy nuts. Add a piece of fruit and you've got a balanced, nutritious, ready in minutes breakfast.
Are you a crunchy or chewy granola bar lover? Give this crunchy granola bar a try. Your whole family will love it.
If you like granola bars but don't tolerate oats, stay tuned…I've got another great breakfast bar coming your way!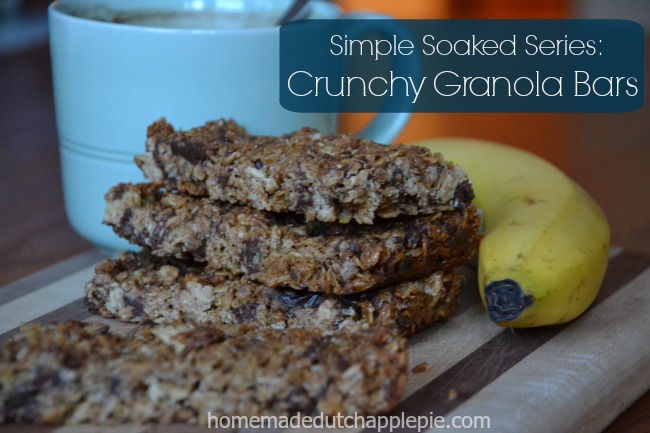 Simple Soaked Series: Crunchy Granola Bars
2015-01-26 05:27:58
A crunchy granola bar made with soaked oats.
Ingredients
3 cups rolled oats
1 1/2 cups warm water + 2 Tbsp. lemon juice, yogurt, whey or kefir
1/2 cup shredded coconut
1/2 cup ground flax seeds
6 Tbsp. butter or coconut oil
1/3 cup honey
1/3 cup maple syrup
1/2 cup coconut sugar or cane sugar
1/2 tsp. unrefined sea salt
optional: 1/2 cup dried fruit, chopped nuts, seeds or chocolate chips; 1 tsp. cinnamon
Instructions
Combine the oats and the soaking liquid.
Cover and let sit 24 hours.
Rinse and drain the oats.
Spread the soaked oats on a dehydrator tray and dry for 8 hours (this can also be done in an oven at the lowest heat setting)
Allow the dried oats to cool.
Heat the oven to 325*F. Grease a 9x13 pan.
Crumble the dried oats into a large bowl.
Add the coconut, flax seeds, sugar and salt to the oats. Gently mix.
Heat the butter, honey and syrup in a small saucepan until melted and combined.
Add the butter mixture to the oat mixture. Mix well.
Add any optional add-ins.
Spread the mixture into the prepared pan.
Bake for 30 minutes.
Allow to cool for 10 minutes. Cut into bars.
Allow to cool completely before removing the bars from the pan.
Store in an airtight container.
Notes
The granola bars can be kept in the refrigerator to stay fresh longer. They can also be stored in the freezer for long term storage. There is no need to thaw granola bars.
Just Take A Bite https://justtakeabite.com/