This post may contain affiliate links which won't change your price but will share some commission.
Looking for a simple, yet nourishing breakfast that you can get on the table quickly? This picky eater approved gluten free instant porridge with MCT oil will be a new family favorite. No cooking. No allergens. And best of all the kids can make it!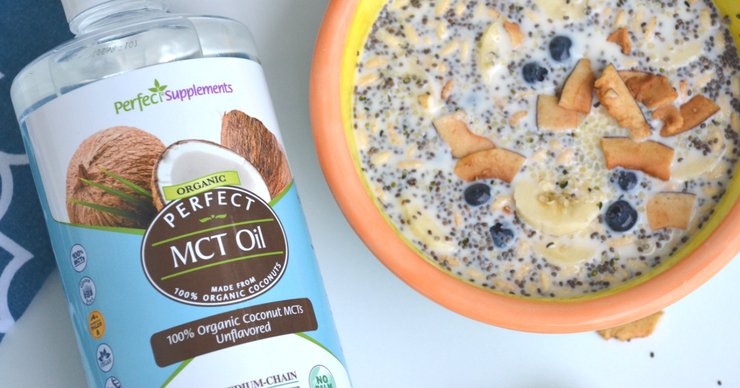 I'm definitely a creature of habit. When it comes to breakfast I tend to serve the same things to my family every week (one less thing to think about when meal planning!). Monday is yogurt. Tuesday is a smoothie. Wednesday is eggs. And Thursday is usually oatmeal.
There's just one problem. My oldest son is allergic to oats!
Easy Oat-Free Breakfast
So I always have to come up with an alternative for him. Sometimes I make a different hot cereal, like teff porridge. But I'll be honest…I usually do not feel like cooking a second breakfast. Especially now with a new baby. I just don't have time for that.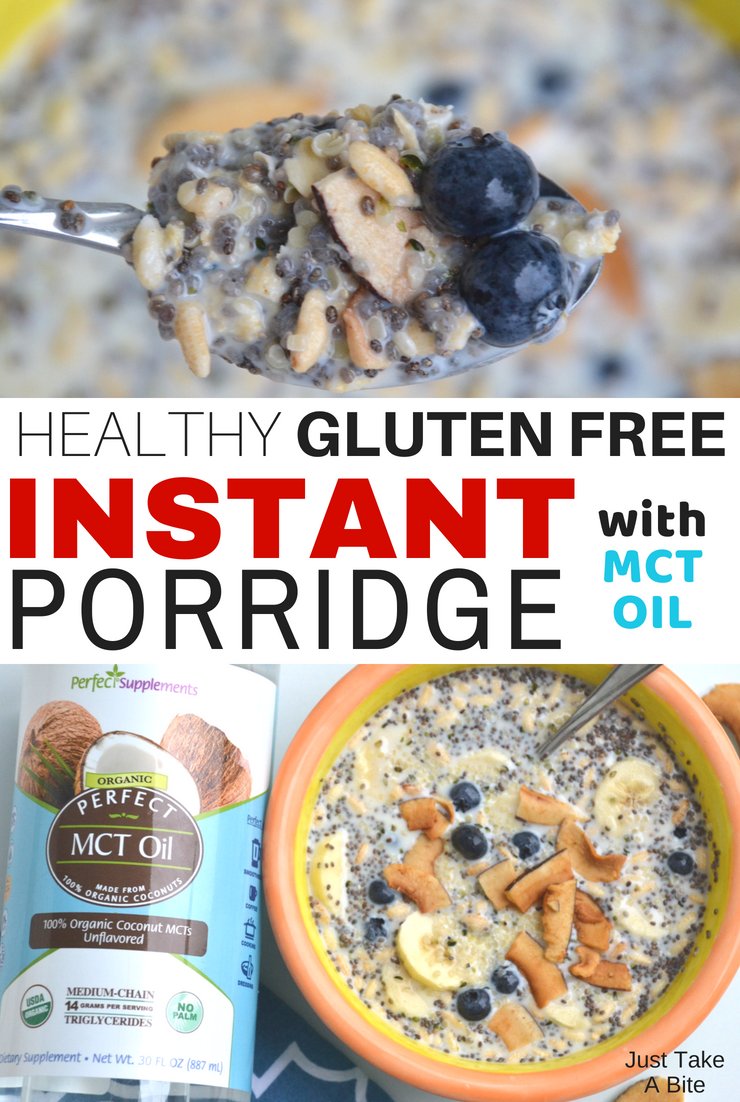 One day I just started tossing some miscellaneous food in a bowl for him. His own instant porridge. And he loved it!
In fact, it looked so good my daughters were jealous that he got instant porridge when they had oatmeal. So now I make it for all of them! Or better yet, they can make it for themselves since they know how to cook. It's that easy.
---
Want to teach your kids to cook? Check out the Kids Cook Real Food ecourse HERE! You can get a set of FREE kids make breakfast videos when you sign up by August 8!
---
Not to mention it's very versatile. You can partially prep it the night before, 30 minutes before or just before breakfast. It can be gluten-free or grain-free and dairy-free.
Instant Porridge Packed with Nutrition
The key ingredient is chia seeds. They pack a nutritional punch with omega-3's, vitamins, minerals, fiber, and protein.
There is another superstar ingredient that we add – MCT oil. If you've never tried it, you should. It comes from coconuts. Here are some of the benefits:
Increase Energy Levels
Improve Mental Clarity, Reduce Brain Fog
Improve Mood
Improve Gut Function and Digestion
Support a Healthy Metabolism
Aid In The Process of Reducing Stored Body Fat
Promote Healthy Brain Function
Keep Excess Inflammation in Check
Promote Healthy Heart Function
Helps Maintain Healthy Blood Sugar Levels
Variety of antimicrobial and anti-fungal effects
Anything that improves brain function and blood sugar regulation is wonderful for kids! Not to mention it boosts nutrition, which is a key factor in dealing with picky eaters. It's great for Mom and Dad too!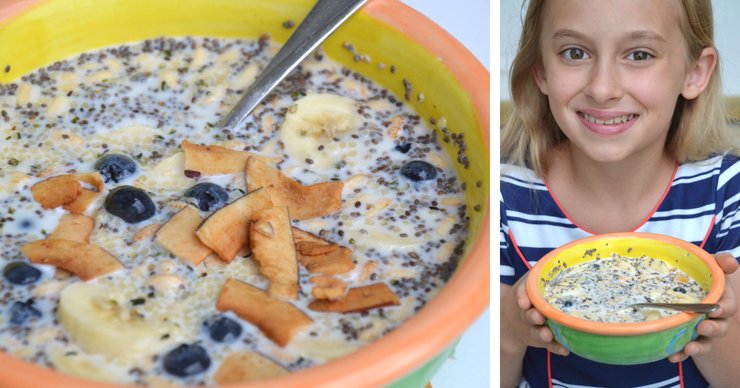 The best source for MCT oil is Perfect Supplements (I trust them for all of my favorite supplements like desiccated liver and collagen). It is 100% pure (read more about it here)!
Grab your MCT oil HERE. Use the code TAKE10 to get an extra 10% off!
If you've never used MCT oil, make sure you start with a small dose (about 1 tsp.) and work your way up to 1 – 2 Tbsp. It can upset your digestive system if you eat too much too quickly.
To your chia seeds and MCT oil add your favorite type of milk (we us raw milk, coconut milk, almond milk or rice milk), seeds, and fruit. Then my personal favorite topping of coconut chips (advanced warning…they are so addictive!).
Healthy, Prep-ahead Breakfast
You can prepare and eat it immediately. Or you can let the chia seeds soak in the milk for a few minutes or even over night to thicken. Sometimes we add brown rice puffs or quick oats (depending on who's eating it) to thicken it as well.
My three-year old has been measuring ingredients and slicing bananas since she was two. She loves to make instant porridge herself. Plus each child gets to choose their toppings when they make it. And they learn how to serve themselves proper portions.
If your mornings are really hectic mix the chia seeds and milk the night before. In the morning set out bowls of toppings for the family.
Instant porridge. Instant breakfast. Instant nutrition.
That is my kind of breakfast!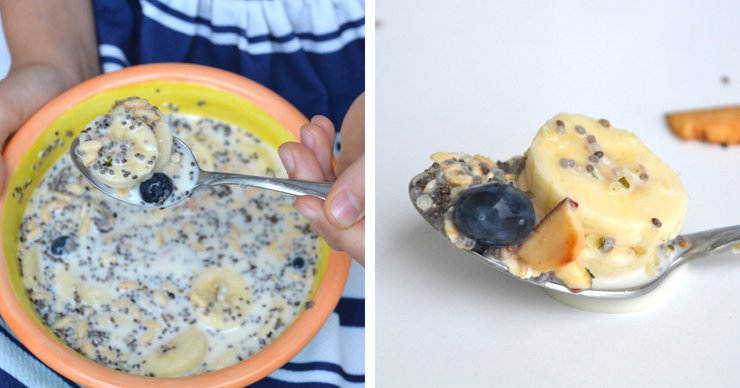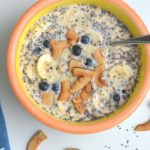 Healthy Gluten Free Instant Porridge with MCT Oil
A simple, no-cook breakfast porridge that is allergy friendly and loaded with nutrition.
Ingredients
1

cup

milk or yogurt of choice

2

Tbsp

chia seeds

1

Tbsp.

hemp seeds

(optional)

1

Tbsp.

MCT oil

(start with 1 tsp. if you've never used it before and work up to 1 Tbsp.)

2

Tbsp.

brown rice puffs or rolled oats

(optional)

1

banana

sliced

2

Tbsp.

coconut chips

dried or fresh fruit of choice

(optional)
Instructions
Combine the milk/yogurt, chia seeds, hemp seeds, MCT oil and puffs/oats.

Allow to sit for 5 - 10 minutes or overnight (in refrigerator).

Add banana, coconut chips and fruit.
Recipe Notes
Any form of dairy works - coconut milk, almond milk, rice milk, etc.
This serves 1. Multiply for as many servings as you need.
What is your go-to quick and healthy breakfast?
Don't forget to grab your MCT oil and all your other favorite Perfect Supplements products like desiccated liver and collagen HERE! Use the code TAKE10 to get an extra 10% off.