This post may contain affiliate links which won't change your price but will share some commission.
Make meal time or snack time fun for kids with these picky eater approved grain-free meatloaf sliders.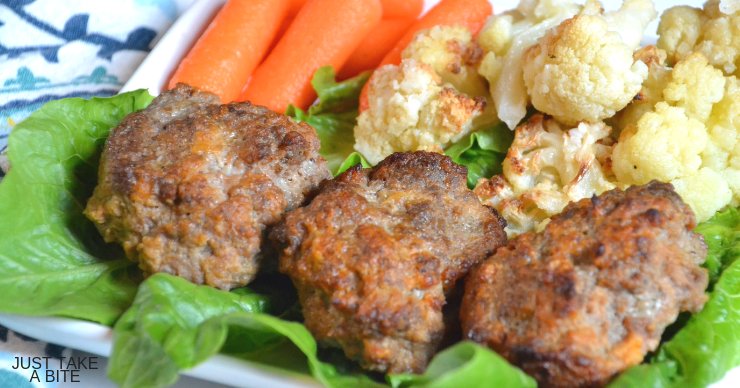 I'm a big fan of meatloaf. It's so easy to make. And all of my kids will eat it. That's pretty much the equivalent of a gold medal meal.
I usually cook mine in the crockpot (I like this style). I put it in before we leave for church on Sunday and it's ready when we get home.
A New Way to Make Meatloaf
Recently I got to review the Paleo Cooking with your Air Fryer cookbook by Karen S. Lee (grab your copy here). When I saw her little meatloaf sliders I knew I had to try them! A family staple in a mini size for little hands? Perfect!
Since my kids have done the Kids Cook Real Food eCourse I actually let them help me make these fun meatloaf sliders. Everything goes in one bowl. My kind of prep work!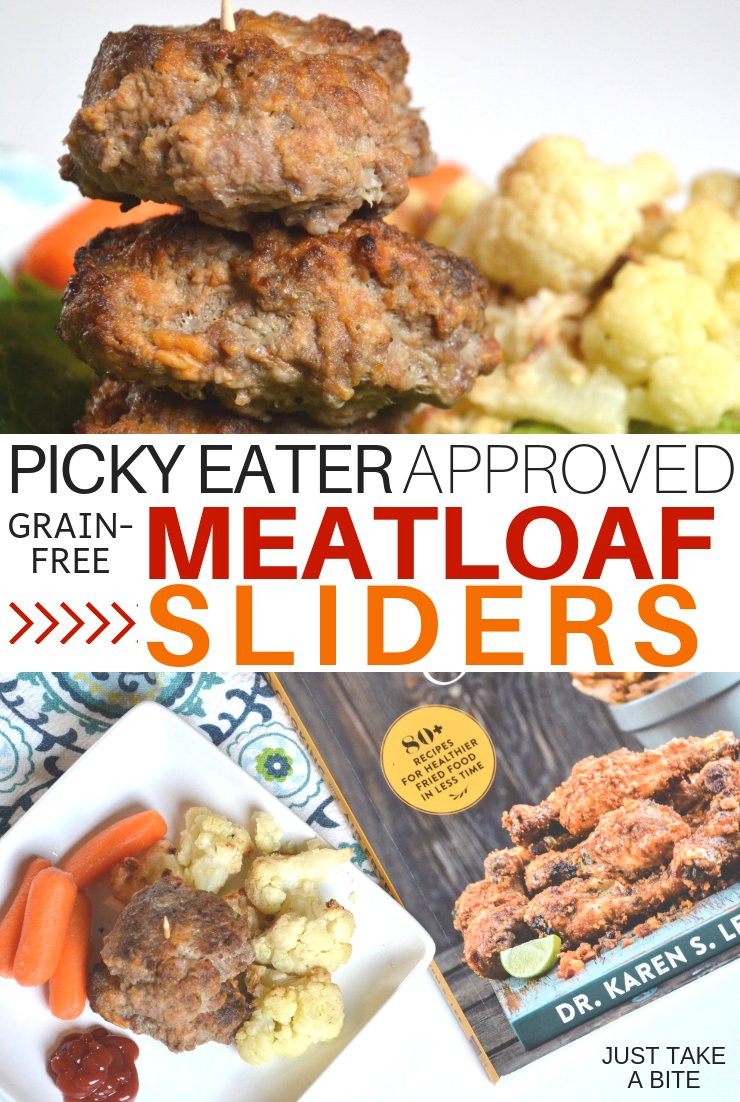 My kids are used to eating their burgers without a bun. So that's what we did. But it would also be fun to make some mini buns or use a lettuce wrap. Or if your kids are like mine they love anything served on a stick. I like mine on a big salad! Top it with some avocado. YUM.
I love that these meatloaf sliders are free of grains/gluten and dairy. If you can't have eggs I bet they would work fine without. We are nut free, so I swapped a little more coconut flour for the almond flour.
I served our meatloaf sliders with cauli-bites, also from Karen's book. I skipped the buffalo seasoning since my kids are not big on spice. But I bet it would be delicious!
Do You Need an Air Fryer?
Now you may be thinking, "These look good…but I don't have an air fryer." Well, I don't either! Though I may have to put one on my Christmas list now. All of the recipes can be adapted for the oven by using a wire rack on a baking sheet. Simple.
If you do have an air fryer I'd love to hear what you think of it!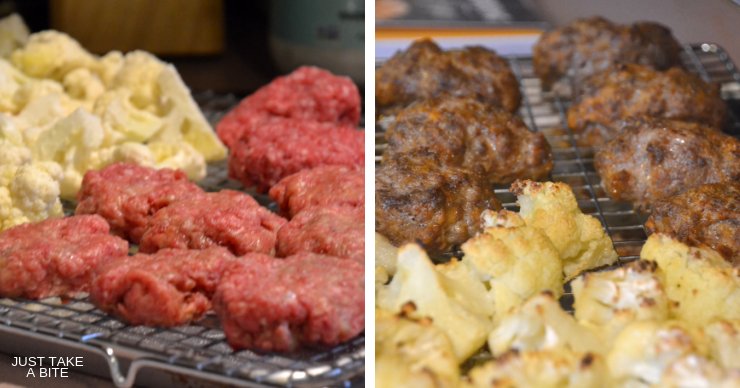 Even if you don't have an air fryer I highly recommend Karen's book. The pictures are gorgeous (my favorite thing about any cookbook). And the recipes all sound delicious. PLUS they are all paleo recipes and easy to adapt to your dietary needs.
I had to steal the cookbook back from my ten year old. She was drooling over every page.
Divided into eleven chapters, Paleo Cooking with your Air Fryer includes crispy and flavorful dishes for every meal and snack, including desserts. Karen's nutritious and delicious air fryer recipes will turn her family favorites into your family's favorites, including Healthy Korean Chicken Wings, Filet Mignon with Herbs and Roasted Garlic, Not Your Gramma's Fried Chicken, Fish Tostadas, Fancy Pants French Fries, Simple Chocolate Mud Cake and Pumpkin Coconut Crème Brûlée.
Dr. Karen S. Lee is a retired Doctor of Chiropractic and Acupuncture Fellow, who helped thousands of patients with emphasis on holistic therapy, ergonomics, nutrition therapy, and mind-body medicine. She is the founder of www.drkarenslee.com, a blog dedicated to holistic health, real food recipes, and lives in Westchester County, New York with her family.
Grain Free Meatloaf Sliders
Karen has graciously allowed me to share the meatloaf slider recipe with my readers! It's great for little hands. And it's definitely picky eater approved! Especially if you let them help cook. Something about helping prepare the food makes it so much more appealing.
Enjoy this super fast, super delicious, super kid friendly recipe. We eat it for breakfast, lunch or dinner!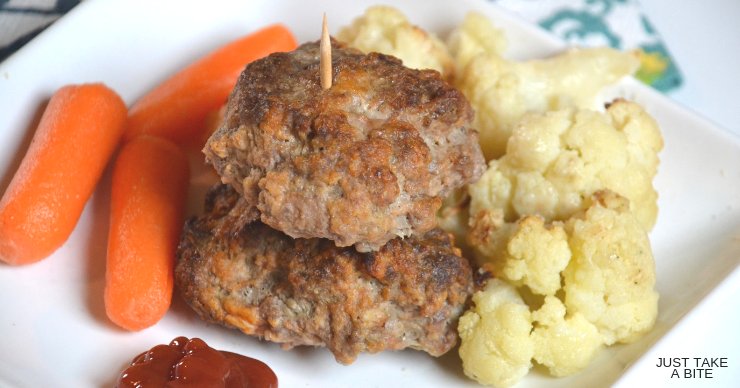 Recipe reprinted with permission from Paleo Cooking With Your Air Fryer by Dr. Karen S. Lee, Page Street Publishing Co. 2018. Photo Credit: Donna Crous.
Grain Free Meatloaf Sliders
Grain and dairy free mini meatloaves.
Ingredients
1

lb.

grass-fed ground beef

2

eggs

large

1/4

cup

onion

finely chopped

1

clove

garlic

minced

1/2

cup

almond flour

extra fine blanched

1/4

cup

coconut flour

1/4

cup

ketchup

1/2

tsp.

unrefined sea salt

1/2

tsp.

black pepper

1

Tbsp.

gluten free Worcestershire sauce

1

tsp.

Italian seasoning

1/2

tsp.

dried tarragon
Instructions
In a large mixing bowl, combine all of the ingredients and mix well.

Make patties that are about 2 inches in diameter and about 1 inch thick. If you want to make thicker or thinner patties, make sure all of them are similar size, so they cook properly at the same time.

Place the patties on a platter and refrigerate for 10 minutes for the flour to absorb the wet ingredients and the patties to become firm.

Preheat the air fryer to 360*F or the oven to 400*F.

Place as many patties as you can fit in the basket and close. Set the timer for 10 minutes. Check the patties halfway through. When the timer goes off, take them out, place on a serving platter and cover until all the patties are cooked.

If using the oven, place patties on a wire rack on top of a baking sheet. Bake for 20 minutes, until cooked through.