This post may contain affiliate links which won't change your price but will share some commission.
Have a kid that won't eat meat or isn't getting enough protein? Chocolate milk to the rescue! This refined sugar-free protein-rich salted chocolate milk is perfect!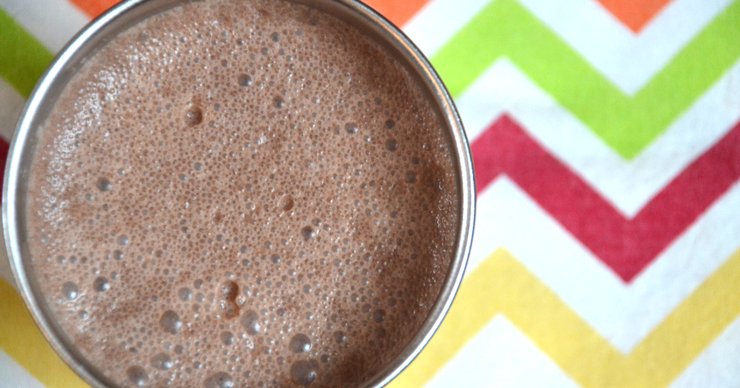 When it comes to drinks in our house we basically have two options: milk or water.
It may seem boring. But really, we don't need much else. Once in a while my kids get a little pure grape juice (if they are fighting a cold or if we are making our "smart water."). And of course we do love our smoothies for added nourishment (check out my book full of recipes here!).
But if my kids are thirsty it's generally water or milk.
Kid-Friendly Drink Without Refined Sugar
Then there are those days where we just want something a little extra. Or maybe my Intuitve Eater is in one of her "I don't want to eat much" slumps. And I have to be sneaky.
That's when I bust out the chocolate milk! Who doesn't love chocolate milk? I know I sure do!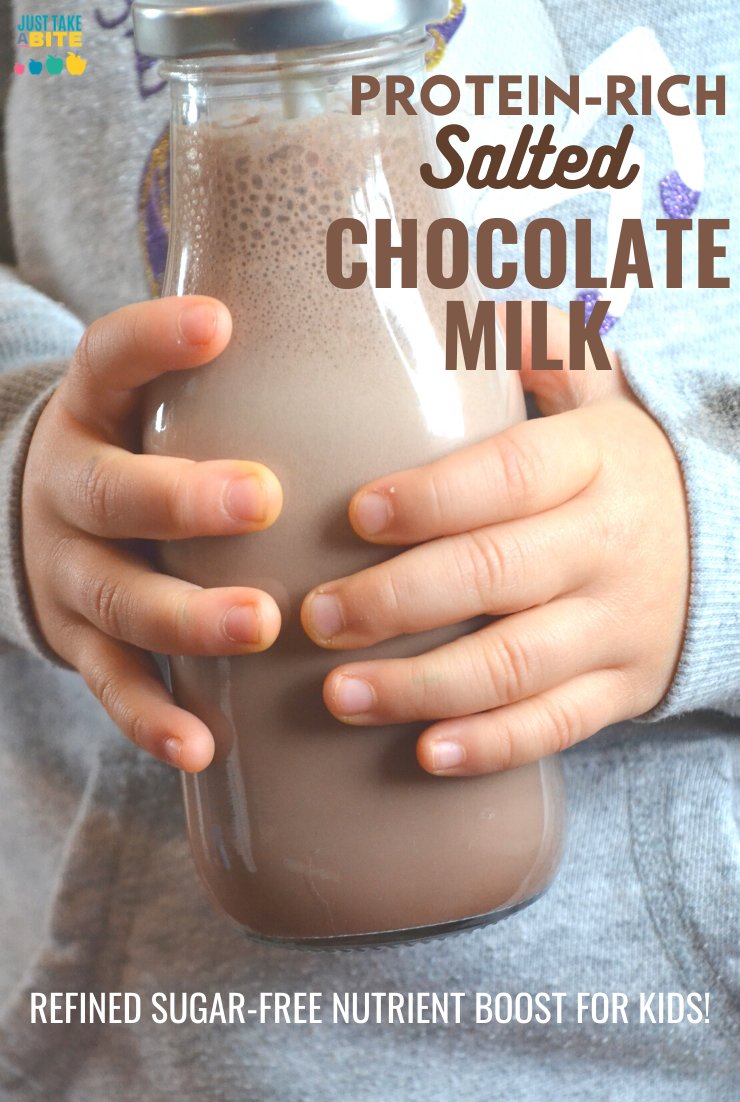 Protein-Rich Drink for Kids
My version of chocolate milk is taken to a new level with extra protein from grassfed collagen (THIS is the brand we use – use TAKE10 to get 10% off). It blends right in with no added taste. Plus it's loaded with a whole array of essential amino acids.
The kids and I have been studying human anatomy and physiology for science this year. Our unit on nutrition introduced us to amino acids and how they are the building blocks of protein. And they are so important! So when I showed the collagen container to my oldest she was fascinated to look at the amino acid profile. Science lesson built in to making chocolate milk!
The good stuff doesn't stop there. We are big fans of adding salt to chocolate. When I say salt I mean real, unrefined sea salt (like this). Not only does it contain a broad spectrum of minerals, it is also hydrating/good for balancing electrolytes and delicious! We even use it to make salted dark chocolate ice cream, healing hot cocoa and salted honey chocolates . Salt and chocolate go so well together.
To really boost nutrition we like to add probiotics and raw egg yolks (from our own free-range chickens). So you are getting extra protein, essential minerals, probiotics, and vitamins! All in a glass of chocolate milk. It's a mom win!
If you like your chocolate milk a bit thicker, like a shake, you can add a little banana and/or avocado.
Healthy Chocolate Milk
When I gave this protein-rich salted chocolate milk to my daughter she had two comments:
Does this have salt?! Yum! When can we make salted chocolate ice cream?
You have to make this every single day!
How to get Kids to Eat Enough Protein
My youngest can be really picky when it comes to meat. Veggies? She'll out eat anyone. Meat? Turns up her nose. We have to bribe her to take bites of meat…then she can have thirds of veggies! For real. So I'm always glad when I can sneak in extra protein for her in something so delicious like chocolate milk. Collagen is a great way to do this. A scoops gives her the protein boost her little body needs. Added to the raw milk and egg yolks it makes a complete protein.
Her ideal meal is a huge pile of vegetables with a glass of salted chocolate milk. And I love to give it to her.
Quick & Easy Nutrition for Kids
It only takes about three minutes to make salted chocolate milk (mostly just the time required to gather ingredients). Older kids can make it themselves. My six and nine-year-olds know how to separate egg yolks thanks to the Kids Cook Real Food eCourse. My three year-old loves to help with the blender. It's a family event! And we all enjoy the reward at the end.
The next time you're in a beverage rut or your kids need a little protein boost, make a batch of salted chocolate milk. Use your favorite milk and some grassfed collagen to blend a nourishing drink the whole family will love.
Protein-Rich Salted Chocolate Milk
A nourishing drink filled with extra protein and minerals.
Ingredients
2

cups

raw whole milk, full fat coconut milk, almond milk, or rice milk

2

Tbsp.

organic cocoa, carob, or cacao powder

2

Tbsp.

maple syrup or raw honey

1/4

tsp.

unrefined sea salt

2

Tbsp.

collagen

1

capsule

probiotics

optional

1/2

medium banana

optional

1/4

avocado

optional

1-3

egg yolks

from free-range chickens
Instructions
Combine all of the ingredients in a high-powered blender.

Blend on high until well combined.