This post may contain affiliate links which won't change your price but will share some commission.
This salted dark chocolate ice cream has the perfect balance of salty and sweet in creamy, rich chocolate.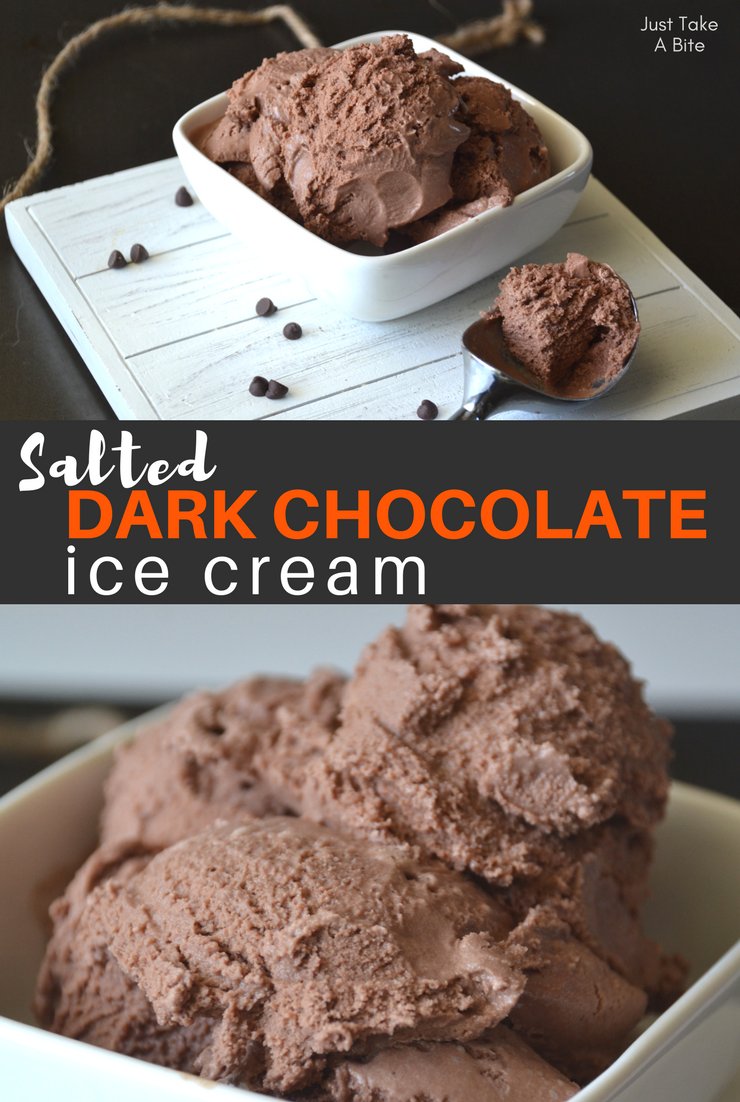 In the summer I make ice cream a LOT. Usually it's once or twice a week. I make some of our favorites quite often – mint chocolate chip, vanilla paired with hot fudge, chocolate and candy bar.
In addition to the standards I love to experiment with new flavors! I've made blueberry cheesecake, rhubarb pecan, sea salt caramel and even blue moon (plus many others).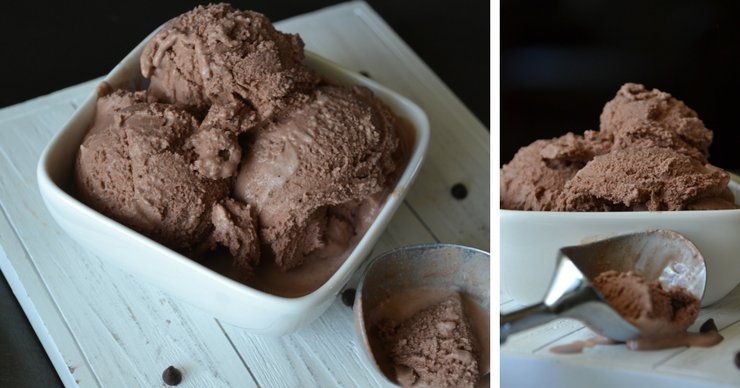 For my latest ice cream creation I made something dear to my heart…salted dark chocolate ice cream.
I love putting salt on my ice cream (crazy pregnancy hormones make me crave salty and sweet together…now I'm hooked). It really brings out the sweetness. I especially love adding salt to chocolate ice cream.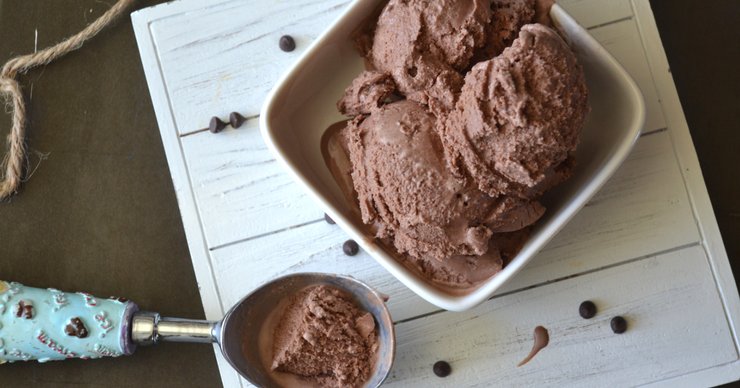 I figured I might as well put salt IN my ice cream instead of adding it every time I scoop a dish.
I combined cocoa powder and carob powder to get a really rich, dark chocolate flavor. Then I added plenty of unrefined sea salt to give a good contrast.
If you tolerate nuts, chopped almonds would be great in this ice cream. If you don't tolerate dairy you can make it with coconut milk. It still tastes wonderful!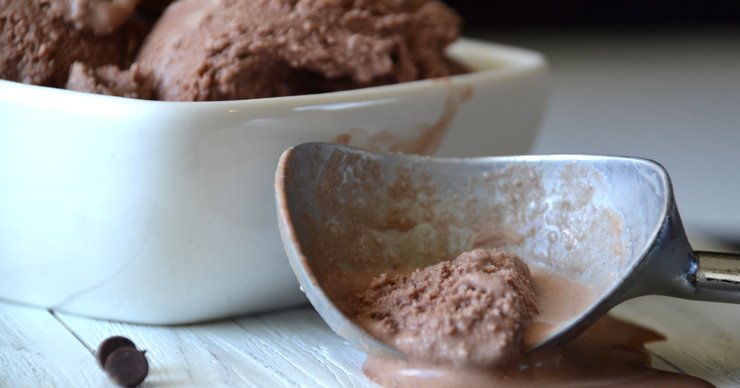 Are you like me and grew up eating a Wendy's Frosty along side french fries? That's what this salted chocolate ice cream reminded me of as I was eating it. YUM! Chocolate plus salt…what could be better?!
Even my daughter LOVES it. So it is very kid friendly. It's a perfect summer treat.
If you like chocolate ice cream you'll love this salted dark chocolate ice cream. It's like chocolate ice cream kicked up a notch.
This post is linked to Allergy Free Wednesday.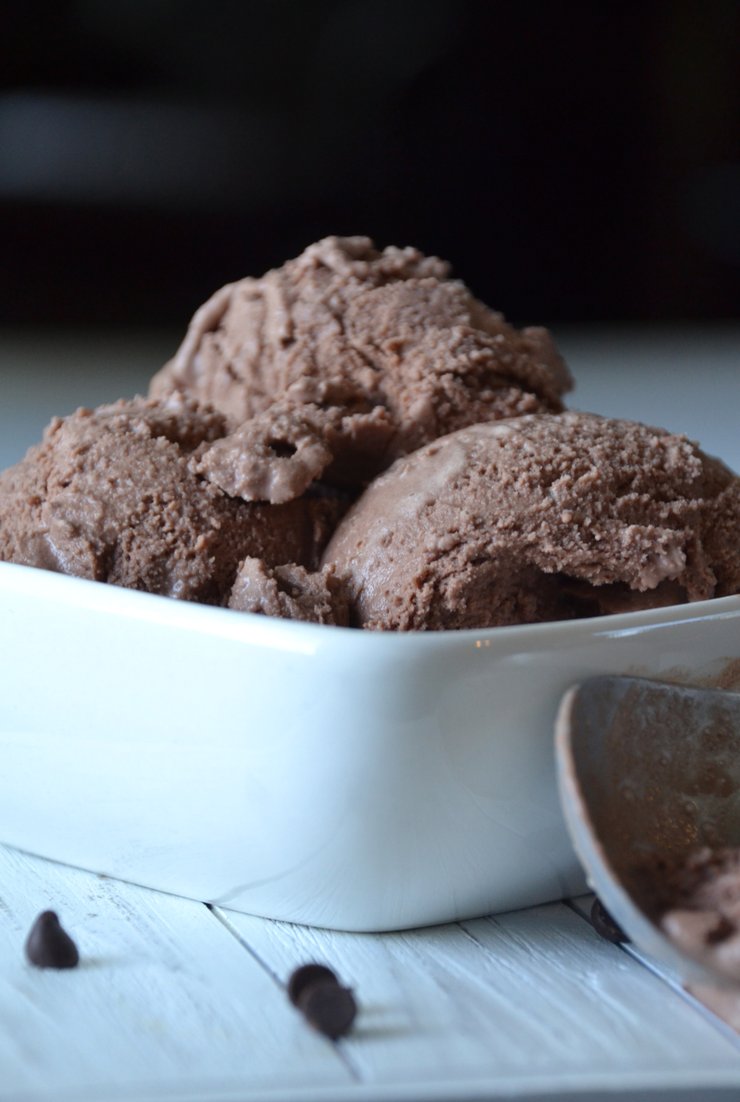 Salted Dark Chocolate Ice Cream
2014-06-12 12:17:57
A rich chocolate ice cream with a hint of sea salt to bring out the sweetness.
Ingredients
21/2 cups cream (preferably raw) (can be replaced with full fat coconut milk)
1/2 cup whole milk (preferably raw) (can be replaced with full fat coconut milk)
1 - 3 egg yolks (optional)
3/4 cup sweetener - honey, maple syrup, cane sugar, coconut sugar
1/3 cup organic cocoa powder
1/4 cup carob powder (can be replaced with cocoa powder)
1 Tbsp. vanilla
1 Tbsp. tapioca flour or arrowroot (optional)
1/2 - 1 tsp. unrefined sea salt (to taste)
Optional add-ins
1/2 cup mini chocolate chips
1/2 cup chopped almonds
1/2 cup dried cherries
Instructions
In a blender combine the cream, milk, egg yolks, sweetener, cocoa powder, carob, vanilla and flour. Blend until smooth.
Add salt, starting with 1/2 tsp. Blend. Taste and adjust to liking.
Process the ice cream according to manufacturer's directions (mine takes about 20 minutes in a Kitchen Aid attachment).
Transfer the ice cream to a freezer-safe dish. Stir in add-ins.
Freeze until firm.
Just Take A Bite https://justtakeabite.com/