This post may contain affiliate links which won't change your price but will share some commission.
There is nothing quite like a hot bowl of oatmeal on a crisp fall day. Make it even better by turning it into apple crisp steel cut oatmeal with fresh apples and coconut sugar.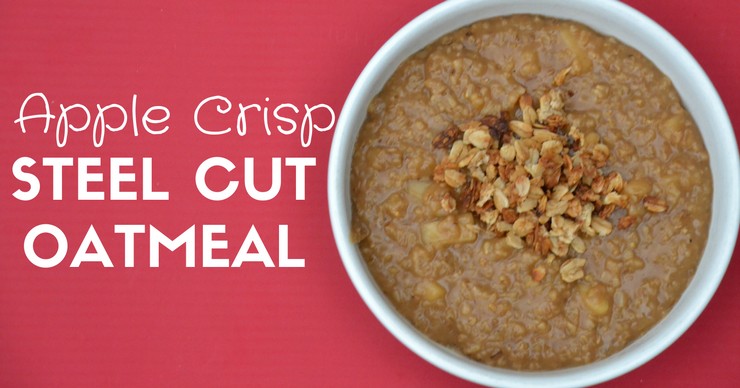 I am working with Bob's Redmill and Stonyfield for this post. I have been compensated for my time commitment. But all opinions are my own.
I love the start of fall. The leaves are changing colors. There is a crispness to the air. And some of my absolute favorite produce is in season – squash, pumpkin, pears and apples!
There are so many ways to use apples, including canning homemade applesauce and turning them into sweet, cinnamony apple crisp (with homemade vanilla ice cream of course!)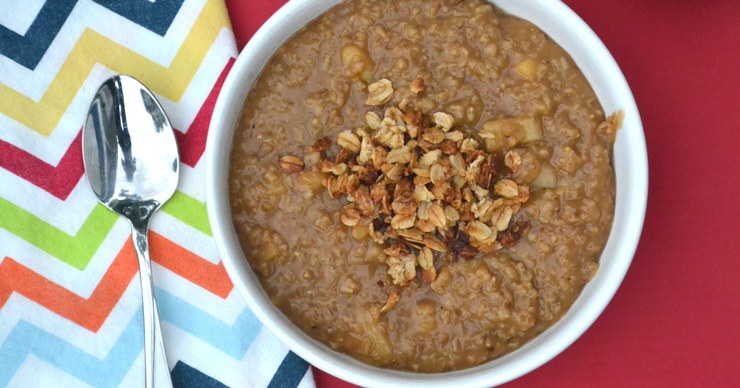 Dessert For Breakfast
I don't always have time to bake apple crisp. But I do always have time to make apple crisp steel cut oatmeal.
Soak the oats in whole milk plain yogurt a day ahead to make them easier to digest. Then add freshly diced apples, a sprinkle of cinnamon and a bit of coconut sugar for a sweet breakfast treat. The coconut sugar adds a great maple flavor that pairs beautifully with the apples and cinnamon.
Don't forget to top your oatmeal with your favorite granola (ours is kettle corn granola!) for that crunchy apple crisp topping.
Steel Cut Versus Rolled
Even if you are not a big oatmeal fan you have to give this a try. I grew up hating oatmeal. I wanted to like it so badly. But I couldn't handle the texture.
Then I tried steel cut oats. What a world of difference! Once you try them you won't want to go back to the rolled variety. Steel cut oats keep their texture and don't get mushy.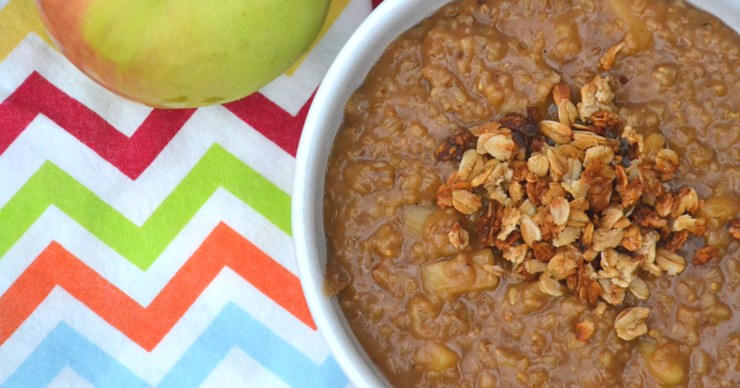 All around apple crisp steel cut oatmeal is a great breakfast. It does take about fifteen minutes to cook. So if you are pressed for time on weekdays you can save it for a weekend treat. Or just cook a big batch at the start of the week and reheat it on the stove or in the oven for a quick breakfast.
Make It Your Own
My husband loves to eat his oatmeal with fresh, raw milk on top. My daughter likes a dollop of vanilla yogurt on hers. It's almost as good as apple crisp with ice cream!
Are you in need of a delicious fall breakfast that the kids will love?
Grab some Bob's Redmill steel cut oats and coconut sugar and Stonyfield plain whole milk yogurt. Then hit up your local orchard for your favorite variety of apple. You're already half way to an amazing breakfast.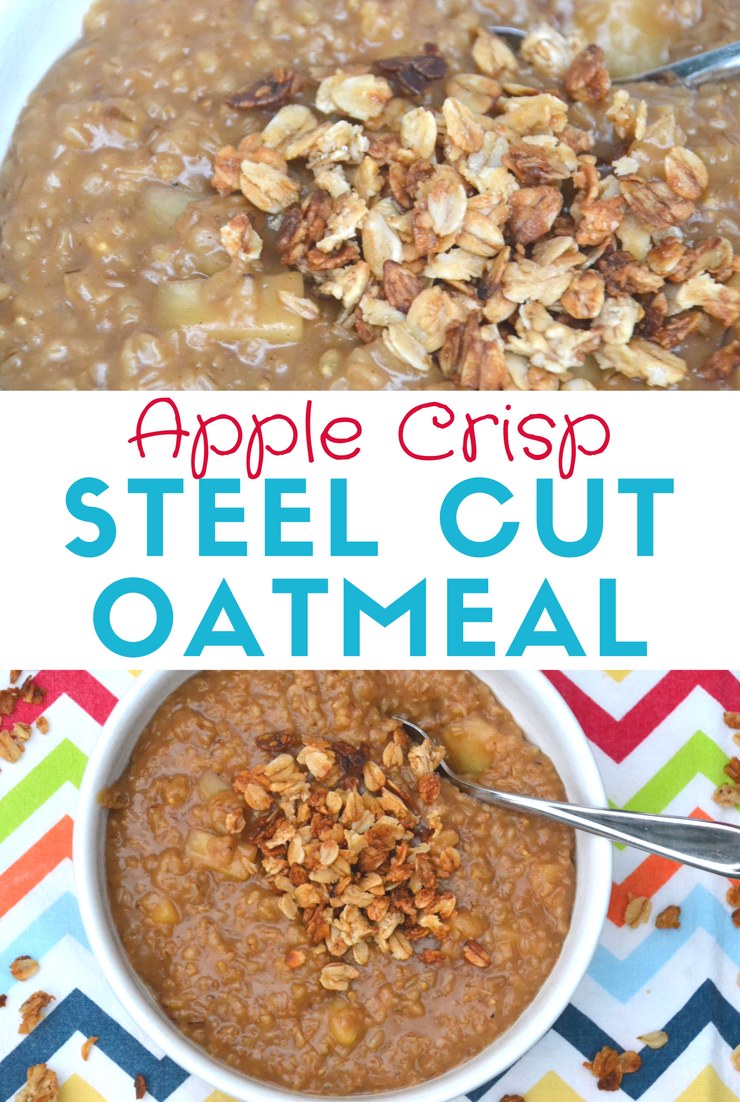 Apple Crisp Steel Cut Oatmeal
2016-09-08 13:20:28
A hot breakfast of steel cut oats, sweet apples and coconut sugar.
Ingredients
1 cup steel cut oats
1 cup warm water
1/2 cup whole milk plain yogurt
1 3/4 cups water
1/2 cup coconut sguar
1/2 cup peeled and diced apples
1/4 tsp. cinnamon
pinch unrefined sea salt
Optional toppings: milk, yogurt, granola, raisins, dried cranberries
Instructions
In a small bowl combine the oats, 1 cup water and yogurt. Let sit 7 - 24 hours at room temperature.
When ready to cook, combine the oat mixture, 1 3/4 cups water, coconut sugar, apples, cinnamon and salt in a medium sauce pan.
Bring to a boil, reduce heat, and cook on low, stirring frequently, until the oats and apples are cooked, 15 - 20 minutes.
Serve warm, plain or topped with milk or yogurt and granola.
Notes
You can prepare the oatmeal in advance and store it in the refrigerator for up to a week. Reheat on the stove or in the oven with extra water added.
Just Take A Bite https://justtakeabite.com/