This post may contain affiliate links which won't change your price but will share some commission.
No need to forgo your favorite cereal to eat healthier. Gluten-free Golden Grahams® is easy to make, allergy-friendly and contains quality ingredients.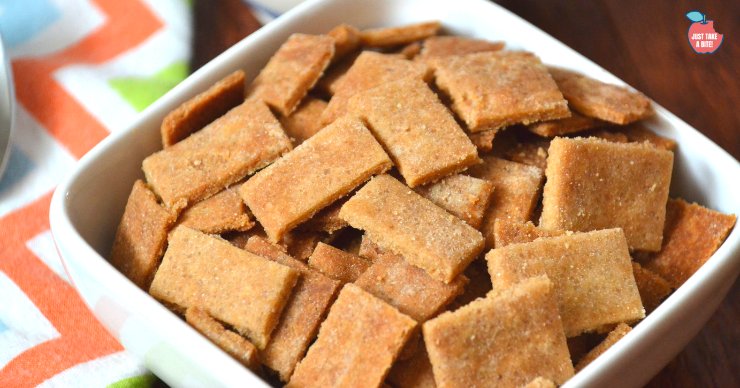 Whether it's hot outside and you want a cold breakfast or you are just too busy to cook, it's very convenient to have cereal on hand.
For those mornings where the kids are up early and need to make their own breakfast. Or when Mom has been up all night with the baby and needs some quick energy. And you don't happen to have leftover muffin bread pudding on hand. Gluten-free Golden Grahams® really come in handy. Not to mention they taste great!
Why Cereal is Unhealthy
Even though I was a cereal junky for many, many years (HAD to have it every morning), I stopped buying it regularly when we switched to real food. It
really is not healthy
, even organic.
Cereal typically gives you lots of processed sugar, synthetic vitamins/fortification (
like Vitamin A!
), artificial or
"natural" flavors
and artificial
colors
, GMO's and
glyphosate.
Not to mention they are made with an extrusion process that makes the grains toxic.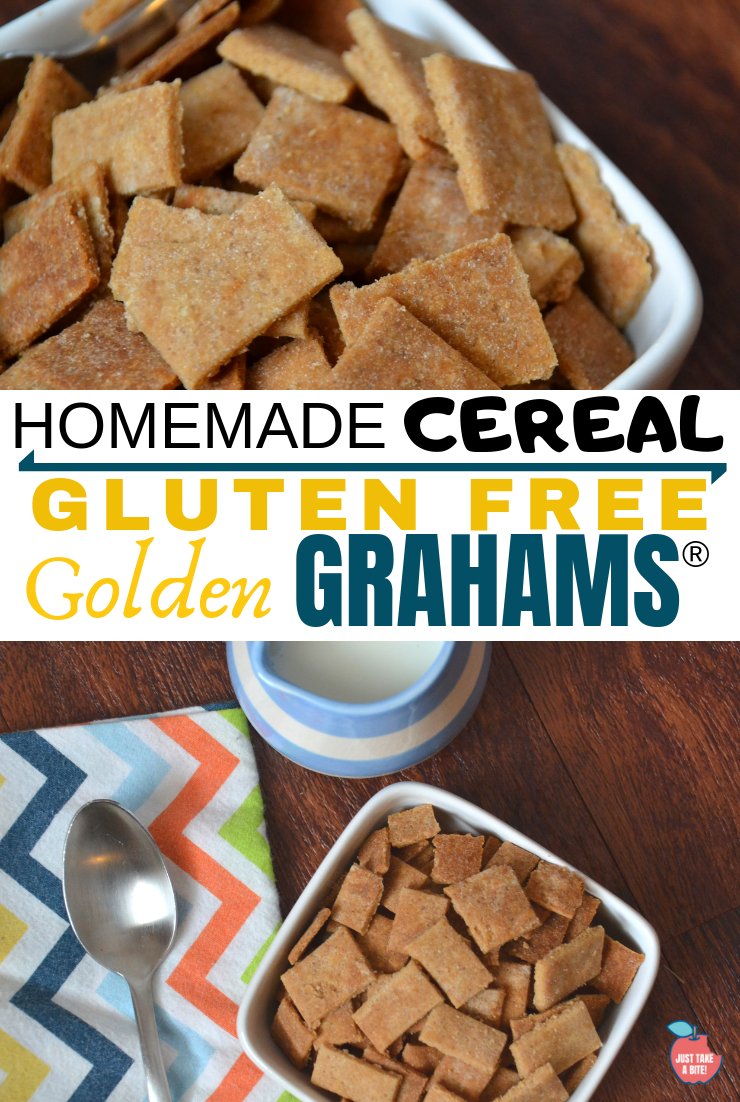 We do still like cereal. And I'll be honest – we do have some organic gluten-free cereal in the cupboard for a once-in-a-while snack. But my preferred choice if we are craving cereal is homemade. Over the years I've made:
Did I mention I used to be a cereal addict? I had to make lots of homemade varieties while I transitioned away from processed food. They were delicious experiments.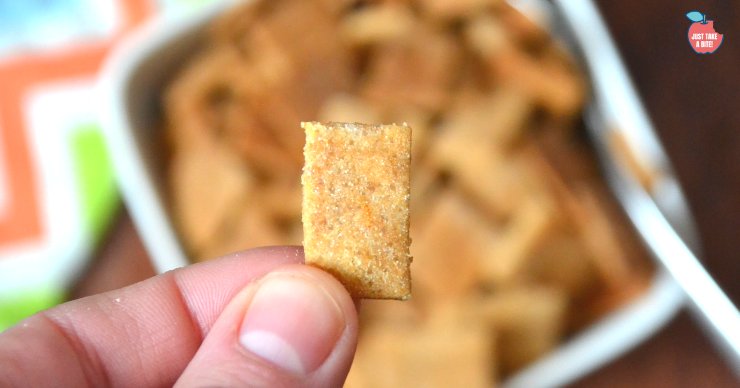 Allergy-Friendly Homemade Cereal
Once we started down the road of food allergies (like going gluten-free) I decided to make my own allergy-friendly versions of our favorite foods. Yes, even cereal!
My kids love them.
Are Golden Grahams® Gluten-Free?
The processed, store-bought version of Golden Grahams® are NOT gluten-free. But this simple homemade version is!
Gluten-free Golden Grahams® are crunchy and sweet. They make a perfect breakfast treat or a fun snack any time of day. My kids love them plain or even mixed into yogurt.
Fair warning – they are addictive. And it's easy to eat a lot since they are so small. Just keep popping a few in your mouth here and there and you've eaten quite a few before you know it. No idea how I know that…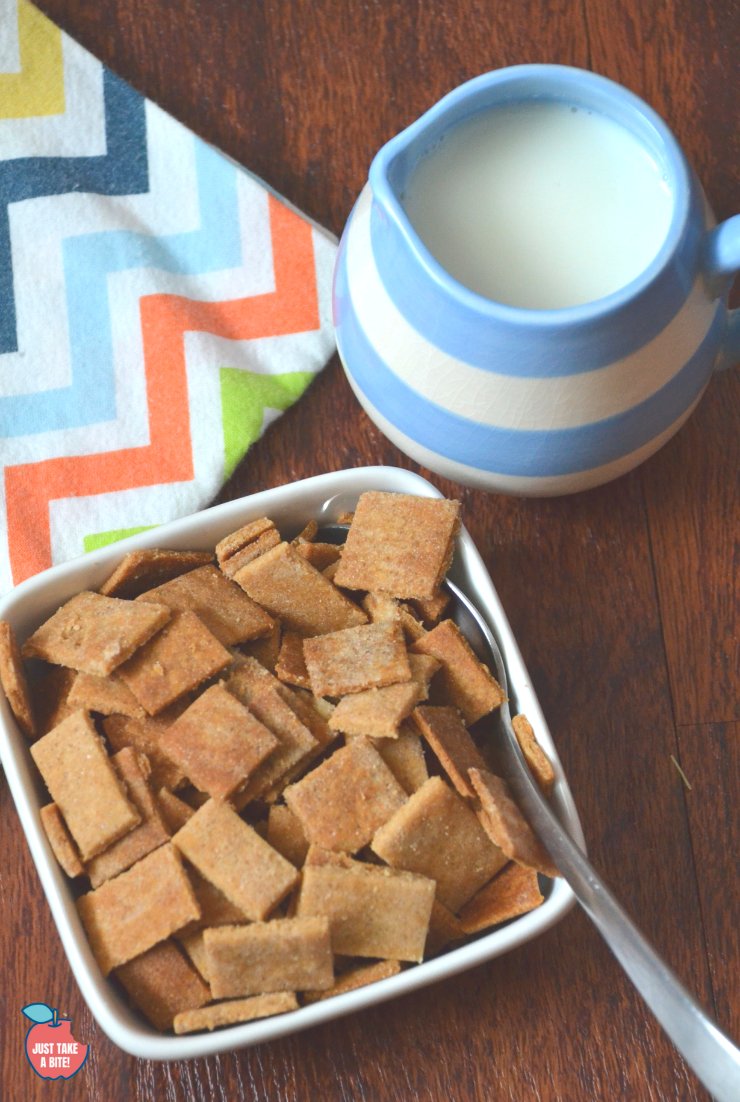 Easy Gluten-Free Snack
Gluten-free Golden Grahams® make a great finger food for on the go. It's tough to figure out what real food to stash in the diaper bag sometimes. Homemade cereal works very well.
We also love to have a bowl with homemade rice milk for an afternoon snack. It satisfies both your sweet and crunchy cravings – without the extruded grains!
Do you still enjoy cereal? Do you need a healthier, allergen-free version?
Try these homemade Golden Grahams®. You won't be disappointed.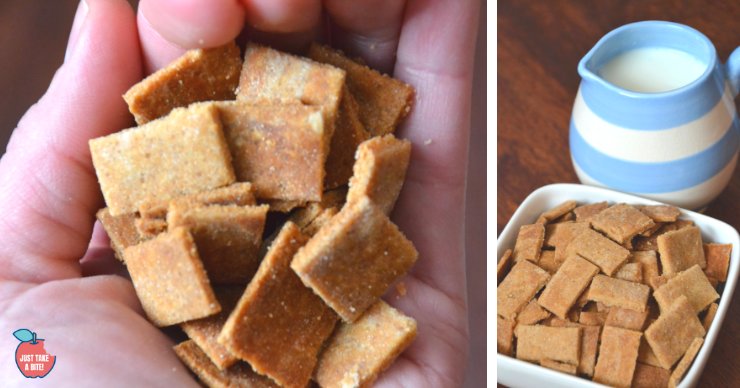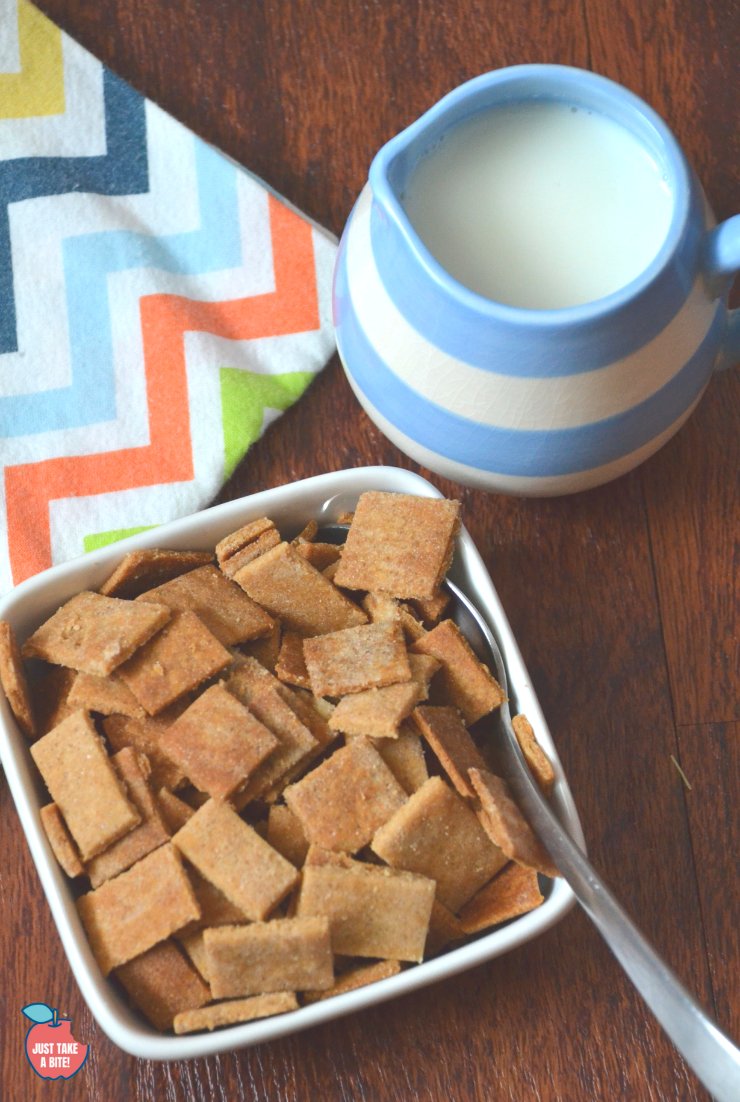 Gluten-Free Golden Grahams®
Ingredients
1 1/4

cups

white rice flour

1/2

cup

amaranth flour

1/4

cup

teff flour

can be replaced with white rice or amaranth

1/2

cup

organic cane sugar

or sucanat or coconut sugar

1/2

tsp.

sea salt

1/2

tsp.

vanilla

4

Tbsp.

honey

2

Tbsp.

maple syrup

1/2

cup

butter or coconut oil
Instructions
Heat oven to 350 degrees F. Cut 4 pieces of parchment paper the size of a baking sheet.

Melt the butter/oil. Set aside.

Mix the flours, sugar and salt in a large bowl.

Add the vanilla, sweetener and the butter and mix until well combined. The dough should hold together when squeezed. If it is crumbly add more honey or butter.

Split the dough into 3 equal parts. Lay one piece of parchment paper on a table. Put 1/3 of dough on the paper. Lay a 2nd piece of parchment on top of dough. Squish the dough down a little with your hand. Use a rolling pin to roll the dough between the parchment paper. Roll the dough until it is very thin (1/16th" or so). Remove the top piece of parchment paper.

Cut into small squares with a pizza cutter or knife. Place on a baking sheet (on the parchment paper...just move the whole thing onto the baking sheet). Repeat for rest of dough.

Bake for 8-10 minutes. Turn the oven off, but leave the cereal in to get crisp. Remove after 5 min.

Let cool completely. Store in airtight container for up to 2 weeks or in the freezer for up to a year.
Recipe Notes
Makes about 2 quarts.
Any 2 cup combination of gluten free flour will work - this combination gives a very neutral flavor.
This post is shared on Allergen Free Wednesday.