This post may contain affiliate links which won't change your price but will share some commission.
Looking for gluten-free sourdough bread that is allergy-friendly, kid-friendly and easy to make? This is it! Just a few minutes of hands-on time gives you delicious gluten-free sourdough without gums.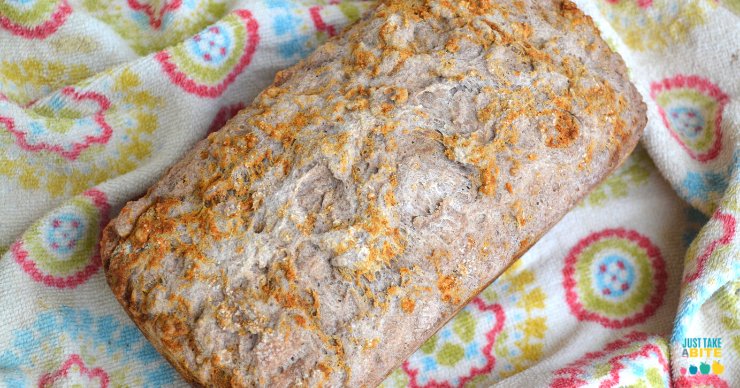 One of my first kitchen experiments when I had just entered the world of real food was sourdough bread. I had some experience with bread-baking. But the idea of sourdough seemed daunting.
Flour and water come to life? You have to feed your food?
That sounded like something to either totally mess up or poison my family with!
But I love a good challenge. So I decided to try it anyway.
What is Sourdough?
The first step of the process was to understand what sourdough is. Sourdough is made by the fermentation of dough using naturally occurring lactobacilli and yeast.
In simpler terms, mixing flour and water creates bacteria and natural yeast that breaks down glucose and phytates in the grains, while providing natural leavening.
Sourdough contains lots of good bacteria that produce enzymes to break down phytic acid and help digestion.
Sourdough bread can also be helpful for anyone with blood sugar issues as the resistant starch helps slow absorption of the carbohydrates.
Does Sourdough Bread Contain Yeast?
Most bread contains a cultivated yeast – baker's yeast. Sourdough bread, on the other hand, uses a natural yeast. There is no need to add yeast to sourdough bread. The fermentation of the grains provide sufficient leavening.
That being said, when it comes to gluten-free sourdough bread, the natural leavening is often not sufficient. I have baked far too many loaves that rose beautifully, only to sink down while baking.
So I add just a bit of baking powder to maintain the rise.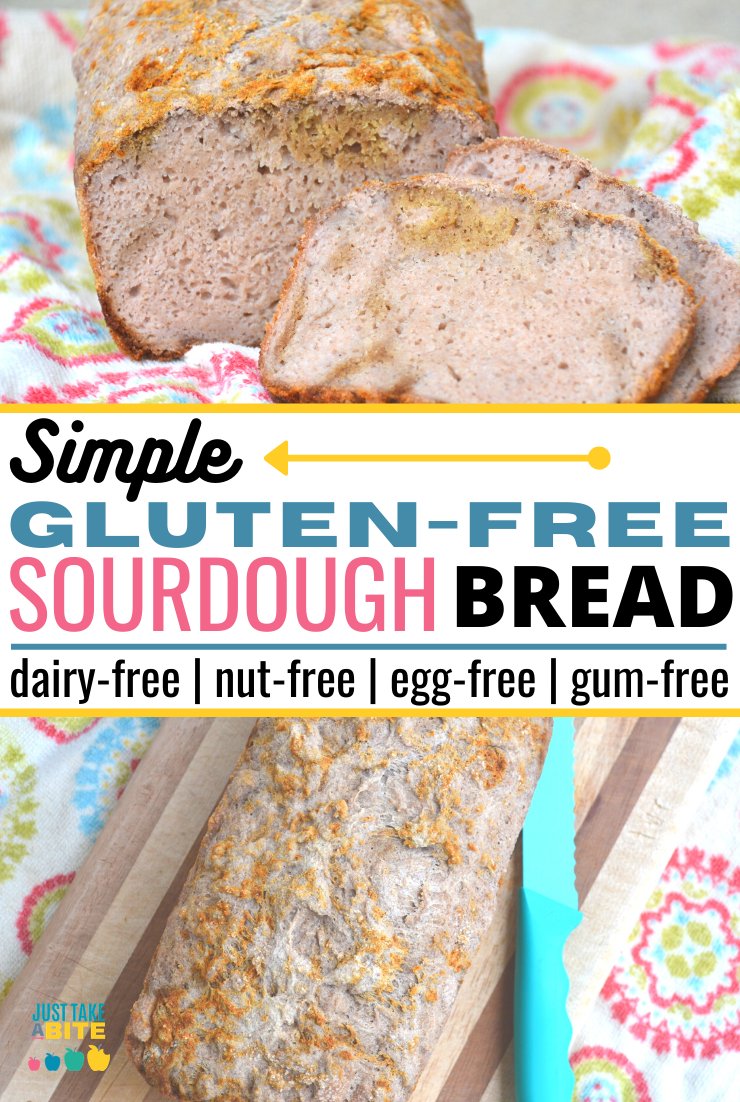 How to Make A Gluten-Free Sourdough Starter
Sourdough bread requires a starter. You can buy a starter or find a friend that is willing to share. But it's actually really easy to make one! As long as you don't expect to make a loaf of bread the same day.
A lot of gluten-free baking is quite different from baking with wheat. Thankfully making a gluten-free sourdough starter uses the exact same process as it would if you were using wheat or rye. Sometimes you may want to feed a gluten-free starter more frequently to get it bubbling well.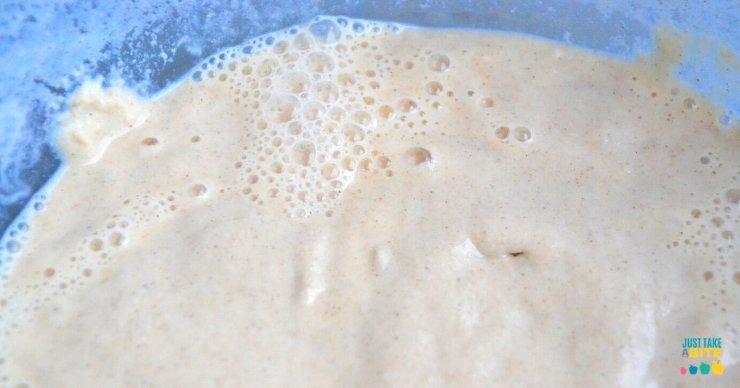 The basic process is combining flour and water until it starts to bubble. This can take anywhere from two days to a week, depending on what grains you use.
Start by mixing equal amounts of water and flour (1/4 – 1/2 cup is good to start). Cover and let sit 12 hours.
Add equal amounts of water and flour again (1/4 cup works well). Cover and let sit 12 hours.
Add equal amounts of water and flour again (1/4 cup). Cover and let sit 24 hours.
Repeat this process until the mixture starts to bubble. That is your starter.
Use some of the starter in a recipe or store it, covered in the fridge.
Any time you use your starter be sure to feed it again.
If you are going to be using your starter, feed it 2-12 hours beforehand to get it good and bubbly and to be sure you have enough for your recipe.
Which Grains Work Best for Gluten-Free Sourdough?
Just about any grain can be used for gluten-free sourdough. Some common grains that are easy to work with are:
brown rice
teff
sorghum
buckwheat
Most sourdough starters use only a single grain. You can have multiple starters to utilize a variety of grains.
I use mostly sorghum and brown rice. I use them interchangeably in my one starter.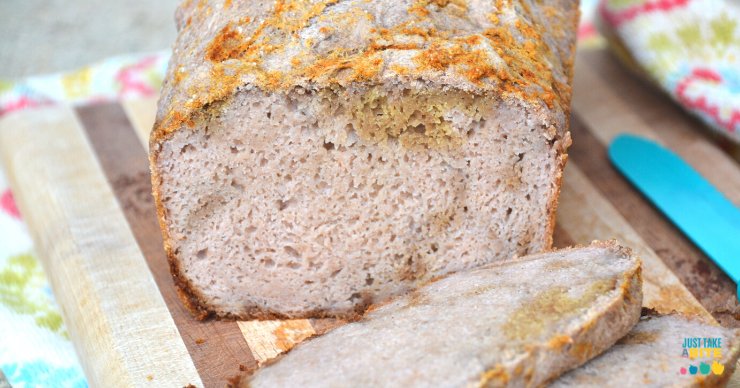 Easy Gluten-Free Sourdough Bread
A gluten-free sourdough starter works the same way as the wheat version, but the bread does not. I tried numerous gluten-free sourdough bread recipes that utilized different techniques and grains.
One was a brick. One was goopy. Some just sunk down. We ate a lot of sub-par bread along the way!
In the end I went back to my usual mantra that simple is the best. No gums. No need to combine five different flours.
This simple gluten-free sourdough bread takes about five minutes to mix up. Then it can rise anywhere from 8 – 24 hours.
The dough will not feel like regular bread. It will be sort of fluffy. And you will likely think you totally messed it up. But don't worry. It will rise up nicely in the oven.
Adding psyllium husk powder to gluten-free sourdough keeps the bread soft (and is why you see a bit of marbling in the bread).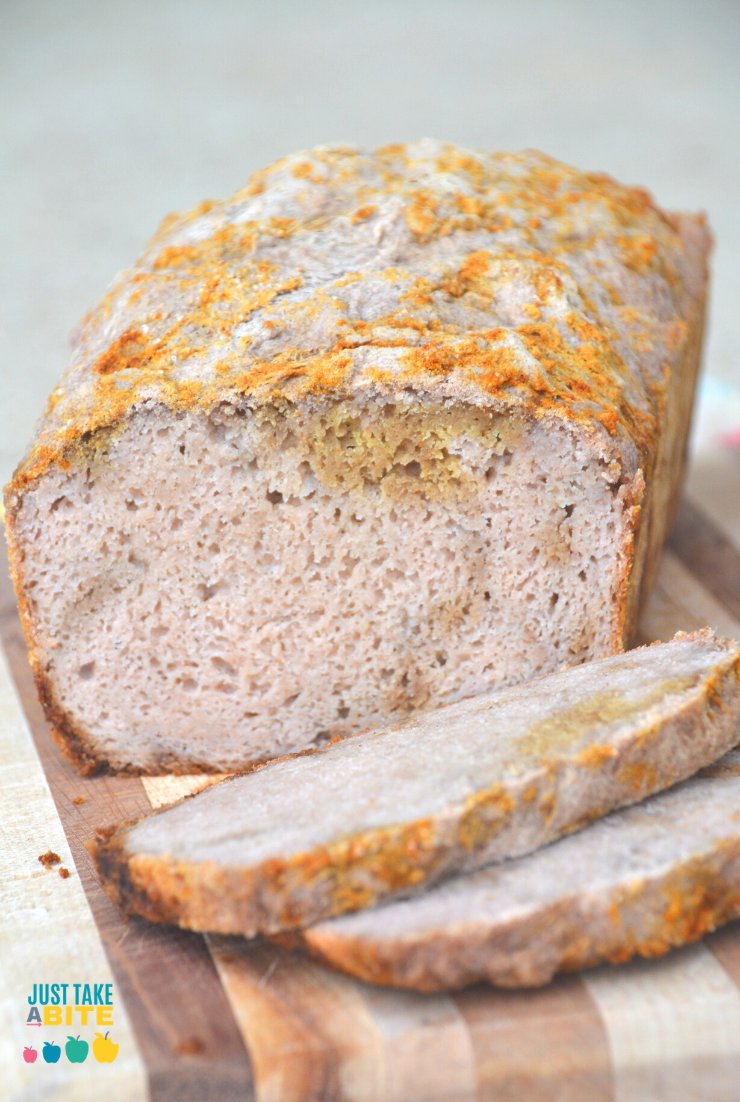 Easy Gluten-Free Sourdough Bread
Ingredients
1 1/2

cups

brown rice or sorghum sourdough starter

1 1/2

cups

water

2 1/2

Tbsp.

psyllium husk powder

1 1/4

cups

sorghum flour

1/4

cup

white rice flour

2

Tbsp.

honey

3

Tbsp.

olive oil

1

tsp.

salt

1/2

tsp.

baking soda

1/2

tsp.

baking powder
Instructions
2-12 hours before making the bread, feed your starter so you have at least 2 cups.

In a large bowl combine the starter and water.

Very gradually whisk in the psyllium husk powder so that it doesn't clump.

Whisk in the honey and oil.

Add the sorghum flour, rice flour, and salt. Mix well. The mixture should be sort of fluffy/clumpy.

Cover and let rise 8-24 hours (the longer it rises, the more sour the bread will be)

When ready to bake, heat the oven to 350 degrees F.

Grease a medium-size loaf pan (4.5 x 8.5 in. / 1.5 qt)

Sprinkle the baking soda and baking powder on top of the risen dough.

Quickly mix in thoroughly (hands work well for this), distributing the soda/powder throughout.

Place the dough in the prepared pan and gently press in.

Immediately remove the bread from the pan and allow to cool completely before slicing.

Store in a bag or sealed container at room temp for up to a week or in the freezer for up to a year.
What Does Gluten-Free Sourdough Bread Taste Like?
This version of gluten-free sourdough bread does have a different texture than traditional wheat sourdough. It's sort of in-between a yeast bread and a sweet bread.
The bread is very soft and can easily be used for sandwiches, grilled cheese, french toast, or whatever else you like to make with bread.
Gluten-free sourdough bread can have a mild flavor or a very sour flavor depending on the rise time. I typically let it rise for about 12 hours, and my kids tell me it's a bit on the sour side for them. You can add a little more honey or some molasses to keep the flavor mild while still getting a good ferment.
Does Gluten-Free Sourdough Bread Toast Well?
Initially I was disappointed with my gluten-free sourdough bread because it is so soft. As an Analytical Eater, I need crunch in my food. I love very toasted bread.
But I found a solution!
This gluten-free sourdough bread has more moisture than a traditional loaf. So it requires a longer toast time to compensate. I actually prefer to bake an individual slice instead of toasting it. Ten minutes in the toaster oven at 400 degrees F gives that perfect, crispy crust. You know it's good when you can hear it while you spread butter.
My kids love it toasted with either butter or sunbutter and a little drizzle of raw honey. I like it toasted with butter, sunbutter and some zucchini cheese slices that start to get melty from the heat.
How Long Does Sourdough Bread Last?
Since gluten-free sourdough bread is already fermented, it stays fresh at room temperature for quite a while. It will stay good on the counter (in a bag or container) for about a week.
I don't think a loaf ever lasts that long for us. Sometimes it's gone in two days! But if you don't think you'll use it all in a week you can freeze it for long-term storage. If you slice the bread before freezing you can take it out one slice at a time as needed.
Is Sourdough Bread High Histamine?
Anything fermented contains histamine. So if you have histamine intolerance, you should use caution with sourdough bread – even if it is gluten-free.
That being said, everyone is different. You need to experiment and see what your body tolerates. I've dealt with histamine intolerance for quite some time, but I do fine with gluten-free sourdough bread.
Does Sourdough Bread Contain Gluten?
This might seem like a silly question in a post about gluten-free sourdough bread. But I do want to clarify some misconceptions.
Traditional wheat or rye sourdough does contain gluten. The fermentation process does not remove the gluten.
That being said, many individuals that are sensitive to gluten can tolerate traditional wheat or rye sourdough. Why is that?
The bacteria in sourdough break down some of the carbohydrates and protein in the grains. This includes breaking down fructan, a carbohydrate found in wheat. Many individuals that are sensitive to gluten are actually sensitive to specific carbohydrates, such as fructan.
My daughters are gluten-free but tolerate wheat sourdough just fine. My sons, on the other hand, have to stick to strict gluten-free. It's worth experimenting to see what your body tolerates. Making sourdough bread with an ancient wheat variety like Einkorn is another option for many that are sensitive to gluten.
Gluten-Free Sourdough for Kids
Most kids like bread. They like toast, sandwiches, grilled cheese – all of it. So why not make it the healthiest bread possible?
Gluten-free sourdough bread contains healthy bacteria and is easy on those that have digestive complaints. Plus it helps absorb key vitamins and minerals!
Gluten-free sourdough bread is a great addition to a healthy diet for kids!
Are you gluten-free? Have you ever tried gluten-free sourdough?