This post may contain affiliate links which won't change your price but will share some commission.
This week's real food meal plan and agenda focus on doctor appointments, packing and super simple meals.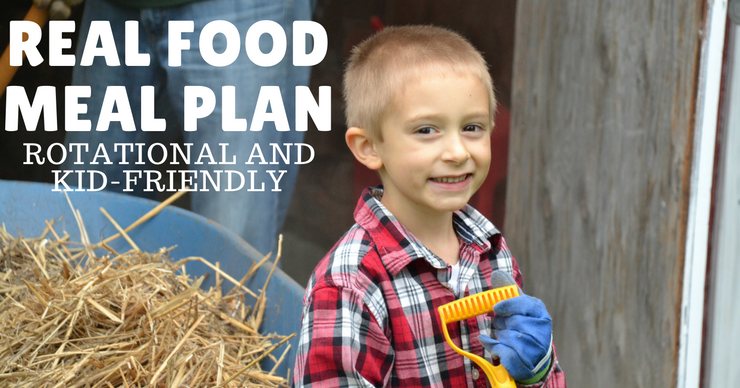 The clock is ticking! We're in the home stretch of packing and cleaning before putting our house up for sale and closing on our new house.
And while the time is winding down our excitement is ramping up!! I know it will take quite a few years to turn it into the farm of our dreams, but I'm already envisioning my updated kitchen, a new wrap-around porch, a large garden (maybe using this Back To Eden technique…so cool!) and an assortment of animals. Keeping that in mind makes all of the work right now more bearable.
Now I've got my mind going again thinking about all the possibilities! Time to get back to reality and the week ahead. We have doctor appointments three days in a row…real fun, huh? Neurologist, allergist and dentist. Somehow I don't think that will help me get more cleaning done.
Slowing Down…?
It also doesn't really help my goal of trying to give myself a break from stress (especially when I have a nasty cold!!). I'm tired of my body slowing down. I want my life to slow down instead! At least I can take a bit of a break from work…sorry, no new posts this week. But I do have some fun stuff coming later in October!
Needless to say I won't be spending much time in the kitchen this week. I'm keeping meal prep simple and any extra work to a minimum until the weekend.
Here is our rotational real food meal plan. What's on your menu this week?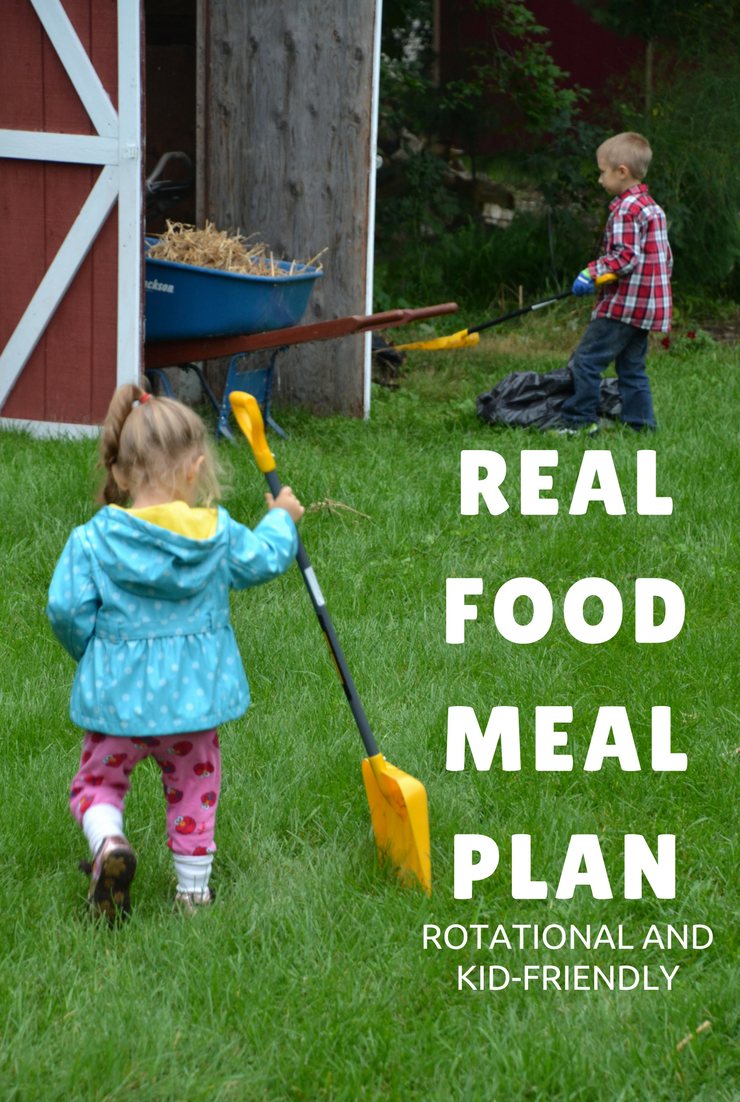 ROTATION: Each day starts with dinner and goes through lunch the next day. Foods in () are things yet to be tried.
Sunday 4
B – ham and cheese quiche, muffins | banana, cheese, avocado
L – crockpot roast beef, carrots, spinach, seasoned rice
D – hot dogs, squash, french fries
prep: roast squash
notes:
Monday 1
B – yogurt, granola, fruit| salted caramel custard with bananas
D – crockpot stuffed cabbage unrolls, applesauce
prep: prep smoothies
notes: prep ahead dinner
Tuesday 2
B – cereal, fruit | squash cherry smoothies, muffins
D – beef and broccoli stir fry over rice
prep:
notes:
Wednesday 3
B – pastry, fruit| avocado, banana, muffins
D – white chicken chili, crackers with cheese and hummus
prep: make hummus, prep smoothies
notes: prep ahead dinner
Thursday 4
B – bagels w/ sunbutter, fruit | blueberry spinach smoothies
D – skillet beef stroganoff, peas, applesauce
prep: boil eggs
notes:
Friday 1
B – hard boiled eggs, toast
D – pancakes, bacon, roasted carrots, fresh fruit
prep:
notes: early dinner
Saturday 2
B – pancakes, bacon, fruit
D – scrambled eggs, breakfast cookies, broccoli, fresh fruit
prep: make breakfast cookies, make bread, make mayo
notes:
Day 1: squash, cabbage, banana, strawberry (pineapple)
Day 1: squash, cabbage, carrot, tapioca, strawberry (cassava)
Day 2: corn, grapes, cauliflower, brussels sprouts, broccoli, avocado, raspberry (amaranth, tomato, orange)
Day 2: grapes, cauliflower, brussels sprouts, broccoli, amaranth, raspberry, orange
Day 3: teff, eggplant, zucchini, blueberries, asparagus, spinach, sunbutter, peach (kiwi, quinoa)
Day 3: teff, eggplant, zucchini, blueberries, asparagus, spinach, sunbutter, peach, sorghum, quinoa
Day 4: pumpkin, lettuce, cherries, split peas, rice, egg, olives, dairy (millet)
Day 4: pumpkin, lettuce, cucumber, cherries, olives, peppers, onion, coconut, millet, egg (dairy)