This post may contain affiliate links which won't change your price but will share some commission.
This week's real food meal plan and agenda revolves around selling (or not selling) our house. We're going with a meal list instead of set plans.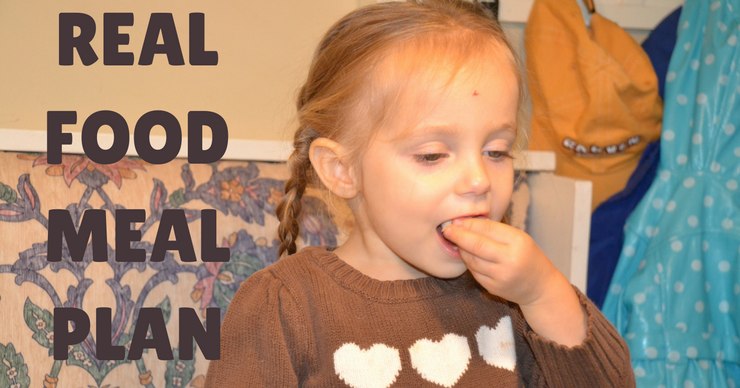 The countdown is on! We're scrambling to do last minute clean up in the house before putting it up for sale!! I can't say I'm looking forward to the selling process and having to get out of the house. It will be nice when that part is over.
Meal Plans?
This week has a lot of uncertainty. Will we put the house up for sale this week or next week? Will we be eating dinner at home every night or will I have to pack a dinner? I just don't know. And it stresses me out!!
So my meal plans for the end of the week will be a list of options so I can pick what works best as details unfold.
In The Kitchen.
I don't have time for much in the kitchen. I did a lot of baking yesterday. I still have a bunch of apples to deal with…at some point. Hopefully I can squeeze my applesauce canning in somehow.
I'm hoping to start the parasite cleanse for my big kids this week since you start a couple days before the full moon. I'm anxious to see if it helps!
We've been doing pretty well with introducing new foods for the kids. I sure have been enjoying butter again!!! But I let my toddler have an apple on Friday. That was a big NO. Stomach aches, poor sleep, poor eating and little red spots all over. Considering we are moving to a house with about 75 apple trees I sure hope she outgrows this allergy soon.
I've also got some new recipes and product reviews coming up.
Here is our real food "meal plan" for the week. How about you? What's on your menu?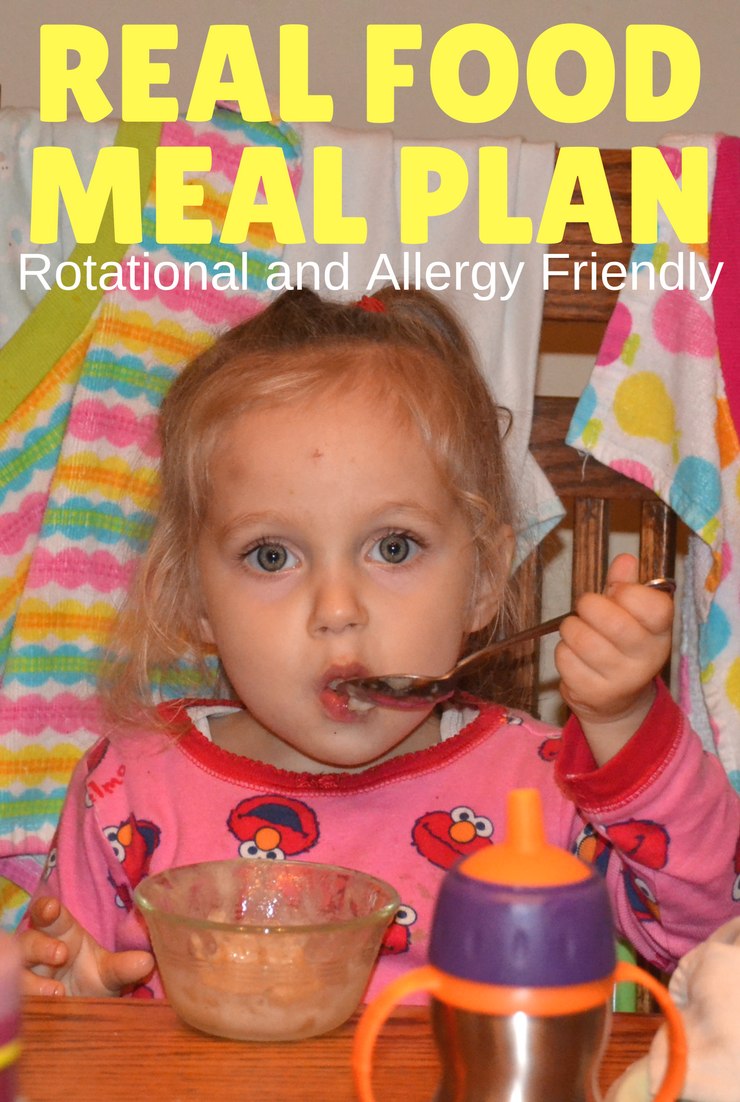 ROTATION: Each day starts with dinner and goes through lunch the next day. Foods in () are things yet to be tried.
Sunday 3
B – yogurt, fruit, muffins
L – crockpot pork roast, rice, beans
D – pork burgers, carrot fries, spinach, applesauce
prep: make crackers, make ice cream?, make mayo?, prep smoothies
notes:
Monday 4
B – toast w/ sunbutter, blueberry spinach smoothies
D – pumpkin squash soup, muffins
prep: make ice cream?
notes: prep ahead
Tuesday 1
B – cereal, fruit | leftover soup, muffins
D – pan seared salmon, rice, peas
prep: prep smoothies
notes:
Wednesday 2
B – squash cherry smoothies, breakfast cookies
D – crockpot meatballs, noodles, broccoli
prep:
notes:
Thursday 3
B – yogurt, granola, fruit
D – egg muffins, sauteed zucchini
prep:
notes:
Friday 4
B – egg muffins, toast, fruit
D – options: egg salad sandwiches, snack sticks, crackers and cheese, raw veggies with dip, sunbutter sandwiches, salmon or tuna salad sandwiches, chips with salsa
prep:
notes: early
Saturday 1
B – cereal, fruit | smoothies
D – at birthday party
prep: make/can applesauce?
notes:
Day 1: squash, cabbage, banana, strawberry (pineapple)
Day 1: squash, cabbage, carrot, tapioca, strawberry (cassava)
Day 2: corn, grapes, cauliflower, brussels sprouts, broccoli, avocado, raspberry (amaranth, tomato, orange)
Day 2: grapes, cauliflower, brussels sprouts, broccoli, amaranth, raspberry, orange
Day 3: teff, eggplant, zucchini, blueberries, asparagus, spinach, sunbutter, peach (kiwi, quinoa)
Day 3: teff, eggplant, zucchini, blueberries, asparagus, spinach, sunbutter, peach, sorghum, quinoa
Day 4: pumpkin, lettuce, cherries, split peas, rice, egg, olives, dairy (millet)
Day 4: pumpkin, lettuce, cucumber, cherries, olives, peppers, onion, coconut, millet, egg (dairy)