This post may contain affiliate links which won't change your price but will share some commission.
This week's allergen friendly meal plan and agenda is focused on rotational eating, pinpointing more allergens and down time.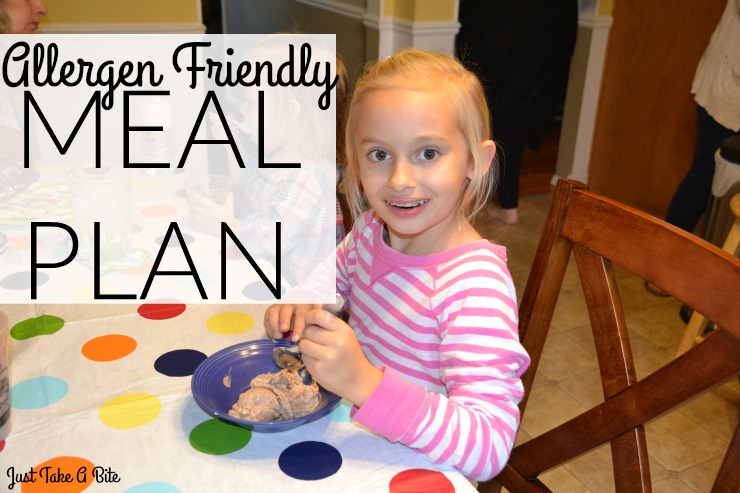 FIVE hours.
I got five hours of uninterrupted sleep last night. After two nights in a row of spending most of the night in the nursery with a sick toddler (did I really just call her that?!) it was so nice to get some sleep!
We've been doing lots of nursing, elderberry syrup, vitamin C (the real form that your body can actually use…NOT ascorbic acid), bone broth and diffusing essential oils. She and I will likely stay home from church today but hopefully she'll be back to full health soon.
This week will be a bit different for us since there is no school Thursday or Friday. Instead we'll be taking it easy as my oldest is getting her lip tie clipped Wednesday afternoon. I'm praying it's a quick procedure and recovery.
The experiments never end.
Last week we potentially found some new problem foods for my youngest. But it's hard to know if it was a food reaction or her illness. So we'll have to put turkey and beans back on to the list of things to try. Last night we experimented with salmon. I'm thinking it might be out for now. We'll see how she's looking this morning.
In an effort to expand our diet I'm trying to think of new foods to try. My current list includes
asparagus
eggplant
quinoa
sunbutter
mushrooms
peppers
We already did asparagus last week…and she loves it. So even though it is not in season I'm going to give it to her. She needs more variety. I'm also finding that one of her biggest eating challenges is that she likes to try new flavors and textures. No leftovers allowed. She won't touch them. She wants crunchy food right now!
She saw me eating sugar snap peas and wanted some. To my surprise she loved them! She's actually really good at chewing so I need to find more foods for her to crunch.
Proactive about our health.
I'm really trying hard to rotate foods. Getting more variety will make that easier as well. I'm increasing my probiotic again this week. I just started taking camu powder for vitamin C. I have yet to try my moringa (one experiment at a time). I just ordered liver pills and more collagen (I'm finally trying Vital Proteins to see if it is as good as everyone says).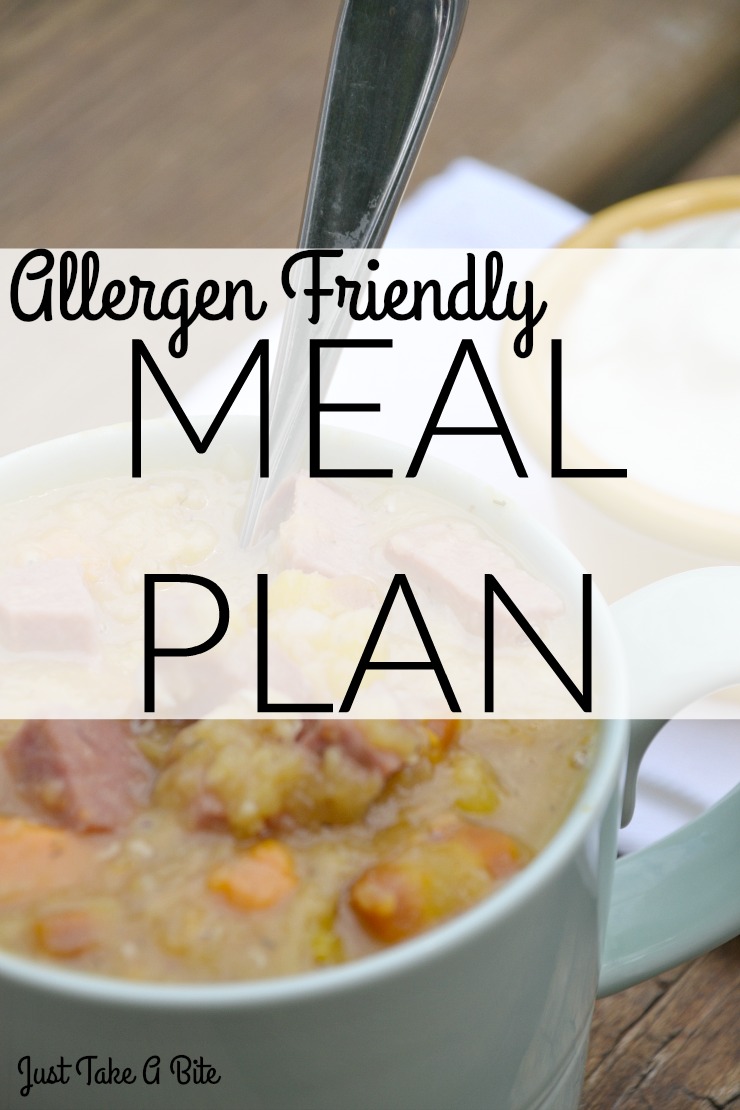 Fun in my kitchen.
I'm not planning too many kitchen projects this week, even though I really need to do some baking. Hopefully next week I can tackle that. Here is what's on the kitchen list.
polenta
bake/freeze squash and pumpkin
pesto
ice cream (maybe)
A look at what's ahead.
I'm hoping to do some big blog updates soon. Hopefully I don't mess anything up!
Last week I posted recipes for einkorn pumpkin scones and no bake pumpkin cheesecake cups. Lots of pumpkin going on! This week I've got three new recipes for you that I think you'll love.
For meals this week I had to focus on easy and soft foods. Though I did tell my daughter she could just drink milkshakes at first.
Here is our allergen friendly meal plan for the week. I'm still adding in the rotation notes to help keep myself on track. It's hard to remember!!
What's on your menu this week? Any fun pumpkin goodies?
ROTATION: Each day starts with dinner and goes through lunch the next day.
Day 1: sourdough/einkorn, squash, peas
Day 2: corn, pumpkin, spinach, grapes
Day 3: teff, eggplant, zucchini, blueberries, asparagus, sunbutter
Day 4: quinoa, mushrooms, lettuce, broccoli, cauliflower, cherries
---
Sunday 2
B – cereal, fruit | chicken, roasted squash, peas, sourdough bread
L – grilled cheese, tomato soup | squash soup, sd bread
D – turkey pumpkin white bean chili, pumpkin and honey polenta | chicken, spinach, polenta
*roast/freeze pumpkin, make polenta, make/can chili sauce
Monday 3
B – yogurt, granola bars | broth w/ pumpkin and spinach, polenta
D (prep ahead) – cp hobo dinners w/ eggplant and zucchini
*soak quinoa, soak teff, boil eggs, skim cream, make ice cream, make chocolate sauce
Tuesday 4
B – hard boiled eggs, toast | teff porridge w/ blueberries
D (ready any time) – beef and broccoli stir fry over quinoa
*soak flour for muffins, soak oats, soak peas, make gummies
Wednesday 1
B – oatmeal | liver, sauteed mushrooms
D (prep ahead/soft) – split pea soup, crackers w/ cheese or muffins
*roast/freeze squash, bake muffins
Thursday 2
B – yogurt, granola, fruit | broth w/ squash and peas, sourdough bread
D – turkey tacos w/ lettuce, cheese, sour cream, salsa, guacamole, beans | pumpkin taco soup
*soak flour for pancakes, soak flour for crackers, render lard, render tallow, clean
Friday 3
B – toast w/ sunbutter, fruit | broth w/ pumpkin and spinach
D – pancakes w/ apple cinnamon topping, roasted asparagus, bacon | fried eggplant w/ pesto
*make pesto, clean, make crackers
Saturday 4
B – pancakes, bacon | teff porridge w/ blueberries
D – cp roast beef, baked sweet potatoes, roasted cauliflower and brussels sprouts | salad
*make sd bread, make elderberry syrup, roast/freeze pumpkin
In order for me to support my blogging activities, I may receive monetary compensation or other types of remuneration for my endorsement, recommendation, testimonial and/or link to any products or services from this blog. It will not change the cost of any products or services for you.