This post may contain affiliate links which won't change your price but will share some commission.
Grain and nut free mineral rich hummus makes the perfect snack or lunch box addition. This is will soon become a kid favorite for dipping veggies!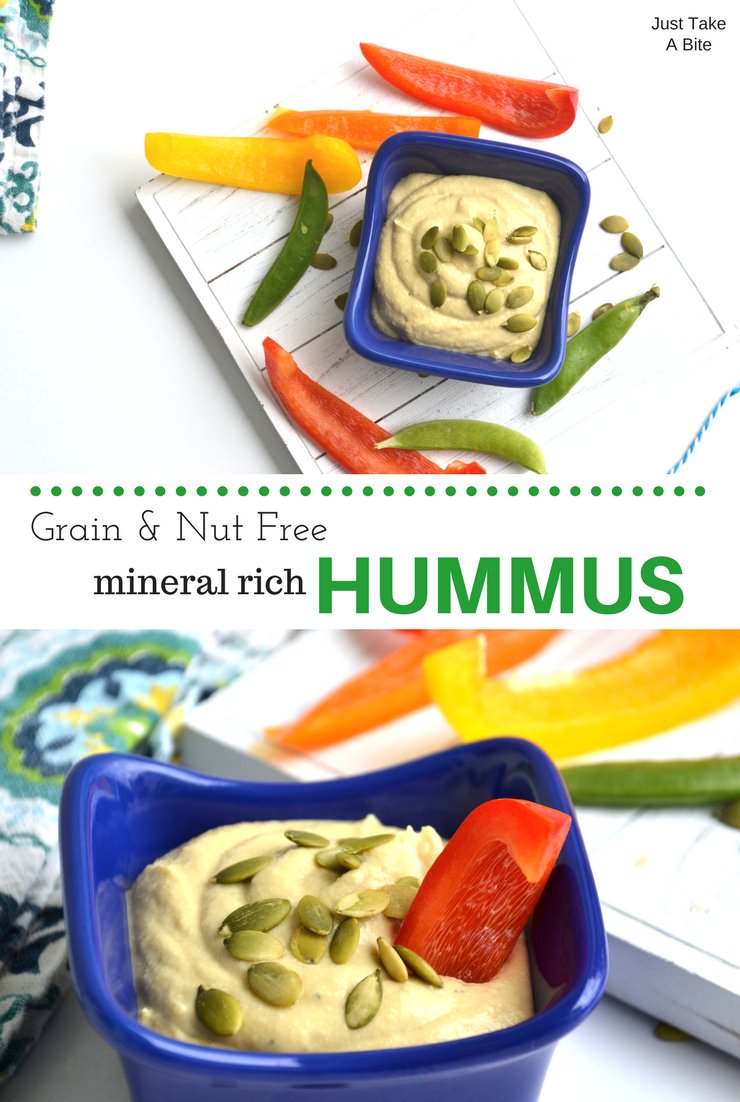 It's time to get back to routines, back to school, back to nourishing lunches! If you haven't set any goals, a good one is to make sure your kids are being nourished every single day at every meal.
It may sound daunting, but it's not. Real food is actually quite simple. Want a snack? Have a pear. Have some pepper slices. Simple.
Want to know what else is simple?
My grain and nut free mineral rich hummus!
It's so simple my kids can make it themselves. Just a few ingredients tossed in the blender. Done in less than five minutes.
If you want to avoid using canned beans, the easiest way to cook chickpeas is in your Instant Pot!
But what makes it mineral rich?
In addition to the usual chickpeas and oil, I like to add pumpkin seeds. They are loaded with zinc, potassium, magnesium, iron, manganese, phosphorus and vitamin E!
The seeds are ground right into the hummus, so you'd never know they're there. But they really boost the nutrition. You could also use sunflower seeds and/or hemp seeds to vary the minerals.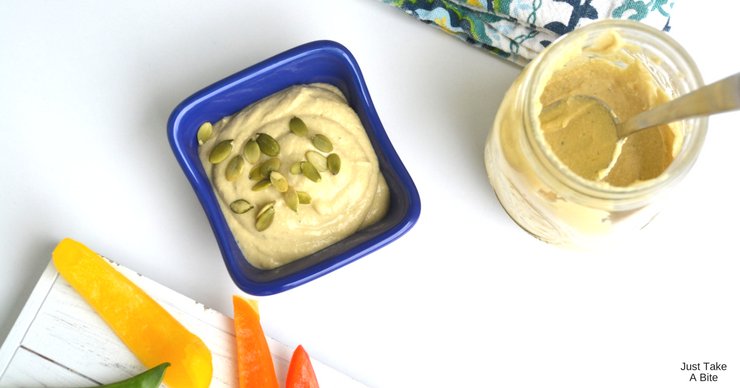 Allergy Friendly Hummus
I like to keep my hummus very allergy friendly. No grains, nuts, dairy, eggs, soy or corn. Veggies with hummus is my go-to dish to bring to a family gathering. I have kids with allergies and a niece and nephew with allergies. So I try to make sure I bring something everyone can (and will!) eat.
My kids will eat hummus by the spoonful. I like to keep some on hand for easy snacks and lunch additions. If I have pepper and cucumber slices prepared, my three year old will grab a pile with the whole container of hummus and start dipping away.
This year make nourishing food a priority. But don't stress yourself. Keep it simple with easy foods like fruits, veggies and my five minute grain and nut free mineral rich hummus. You never know, it might just be the trick to turn your kids into raw veggie lovers!
Are your kids adventurous eaters? They might like my pesto hummus!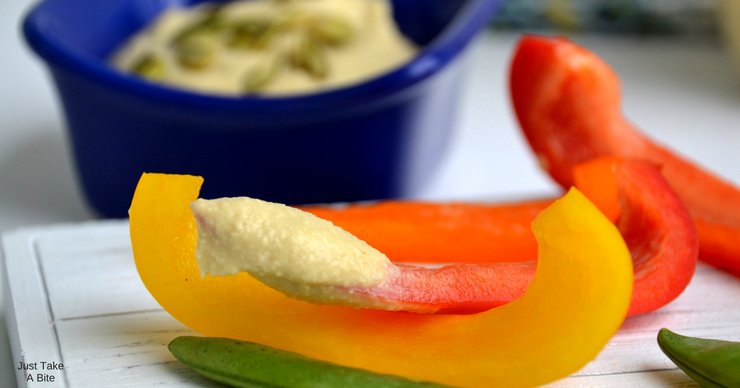 Grain and Nut Free Mineral Rich Hummus
2018-01-07 05:26:39
Serves 10
A simple, mineral rich dip for veggies or crackers.
Ingredients
1 1/2 cups chickpeas (cooked, boxed or canned), drained, liquid reserved
4 Tbsp. extra virgin olive oil or avocado oil
6 Tbsp. bean liquid or water
2 Tbsp. pumpkin seeds (or sunflower or hemp)
1/4 tsp. unrefined sea salt
1/4 tsp. garlic powder
1/2 tsp. onion powder
1/4 tsp. dillweed (optional)
1/4 tsp. desiccated liver (optional)
Instructions
Combine all of the ingredients in a blender.
Blend on high until smooth. Add extra liquid/water if needed.
Adjust seasoning to taste.
Serve immediately or refrigerate (up to one week) until ready to serve.
Just Take A Bite https://justtakeabite.com/