This post may contain affiliate links which won't change your price but will share some commission.

NOTE: I no longer support the Vitamin A as poison theory. I do not recommend it to anyone, especially children. All information in this article is purely to help you understand what it is based on. It is possible to get too much Vitamin A by overdosing supplements or liver. But that doesn't happen often and can be quickly remedied if it does by stopping the supplements. Vitamin A from animal sources (retinol) is an essential part of a nourishing diet. Beta Carotene can cause carotenemia (as my son had) but will not overload the body with Vitamin A. Retinol is required for regulating both copper and iron. I encourage you to research and make your own decisions. You can read our update/why we turned and ran from the Vitamin A Detox Diet HERE.
Today we're discussing what you've all been waiting for – how to overcome Vitamin A Toxicity.
It's really quite simple.
I also wanted to note that I will be focusing on the Vitamin A Detox Diet in relation to children since that is my area of specialty. That being said, everything will be applicable to adults as well.
Finally, know that this is VERY NEW information. So new things are coming to light left and right. I will do my best to keep up with anything that changes and give you the most up-to-date information.
How Does Your Child Get Vitamin A Toxicity?
A person becomes toxic when the liver is saturated with a particular toxin and can't handle any more. Too much toxin = toxic. Once your bathtub is full of water it will start spilling over the edges. You can't truly drain the tub until the faucet is completely turned off.
In other words, you have to stop taking in Vitamin A (intox) in order for your body to get the built up Vitamin A out (detox). You need the Vitamin A Detox Diet.
To clarify I do NOT mean detox in the sense of a juice cleanse or starving yourself. I'm using the word detox purely to mean the act removing the toxin. Not the widely held beliefs about the methods of detox.
The idea of no more in, drain the stored amount out is pretty simple and straight forward. I'll go into more details on how specifically in a moment.
First I want to address how we got here in the first place.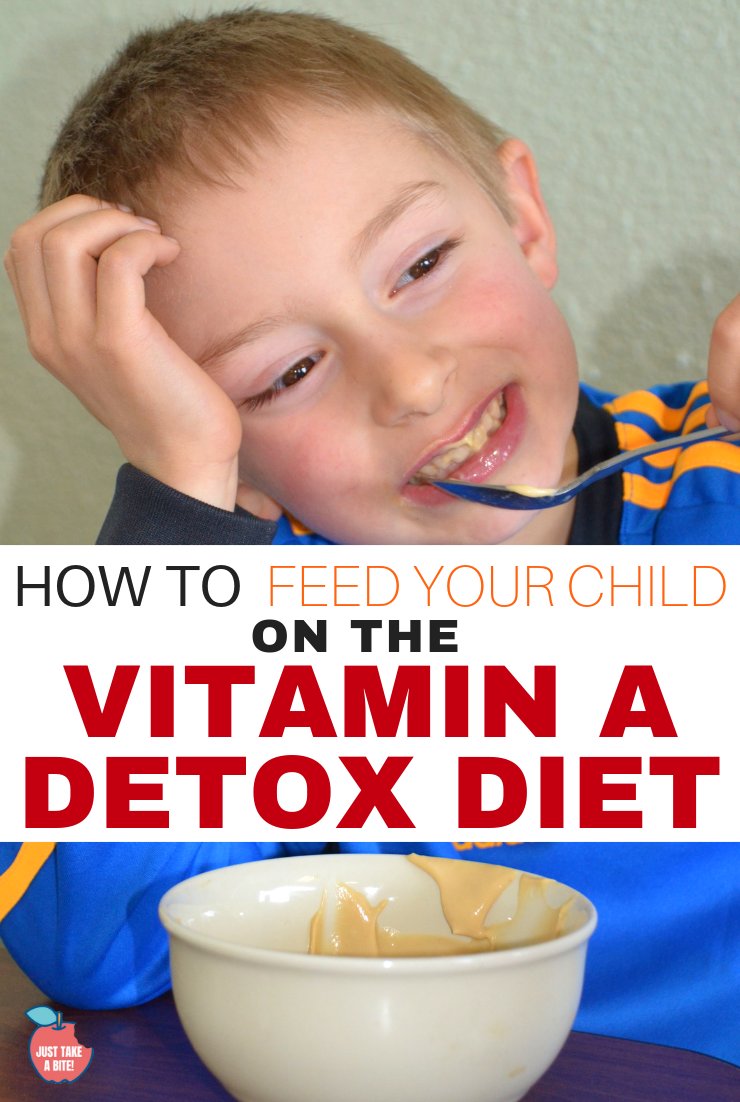 Why Are Children so Loaded with Vitamin A?
If you're like me you've been trying hard to nourish your kids and make sure they are eating lots of fruits, veggies and whole foods. Maybe you add extra egg yolks to smoothies or some desiccated liver to your meatballs. Your kids take cod liver oil weekly, drink raw milk or organic whole milk, eat sweet potatoes, carrots, avocados, peppers, beets, spinach and kale. An assortment of healthy food.
How about a multi-vitamin added in for good measure? Just to "fill in the gaps." Some whole food Vitamin C too?
Well, maybe not. Each of those things contains Vitamin A in the form of retinol, beta carotene or other carotenoids. And they add up. Quickly.
Humans did not eat this way thousands or even hundreds of years ago. Nobody ate the rainbow 1,000 years ago (I think we've forgotten how healthy white fruits and veggies are!). It just was not an option. There were no supermarkets with produce from around the world shipped in daily. People ate what was available.
Or maybe you've raised your kids on a typical diet these days of processed foods and pasteurized milk. They are all fortified with Vitamin A. Did your child ever drink formula? Fortified. In this case the government is dictating that your child needs large doses of Vitamin A on a daily basis.
How our Food and Diet Have Changed
I'm going to get technical just for a second here to explain some things on a deeper level.
Our bodies have a variety of receptors (molecule that responds to/"receives" specific substances like neurotransmitters, antigens and hormones). These substances are called ligands. Scientists have labeled one of the receptors RXR (Retinoid X Receptor). It is a poor name since this receptor can, and should, accept more than just retinoic acid.
RXR can also accept DHA (docosahexanoic acid) and phytanic acid, two types of fatty acids (there are others it accepts as well). These are actually the intended ligands for the RXR. Think of them as keys that unlock the RXR. And when they are present, they block the RXR from accepting Vitamin A.
DHA and phytanic acid should come from our food, specifically from ruminant animals. Ruminants eat grass, break down chlorophyll into DHA and phytanic acid. Then we consume them in beef fat and dairy fat. Both DHA and phytanic acid speed up the enzyme that breaks down Vitamin A in addition to blocking it from the RXR.
But this process has been interrupted. What are animals fed these days? Grains. No chlorophyll. On top of that the grains are usually covered in glyphosate. So there is much less DHA and phytanic acid to breakdown Vitamin A. And there is glyphosate that prevents the breakdown of Vitamin A (read all about the glyphosate Vitamin A connection here). A double whammy.
The popularity of vegetarian and vegan diets has also been a factor. We need red meat and animal fats from grassfed animals to get sufficient protein (to make retinol binding protein), DHA and phytanic acid. But those are missing on these restricted diets. Then add Vitamin A supplements on top of that "to prevent deficiencies." It's a recipe for disaster. If you know anyone that has gone on a vegan or vegetarian diet and felt great for a bit and then all of a sudden started to feel awful…this is why. They may actually be inducing an autoimmune disease!
As you can see our food supply and recommended diet has contributed greatly to this imbalance of Vitamin A. Plus the abundance of glyphosate is preventing us from detoxing Vitamin A.
How My Children Became Toxic
I'm right there with you when it comes to having children with Vitamin A Toxicity.
When my son was two he started itching his legs like crazy until they would bleed. Eczema. I did not know it then, but eczema is actually classified as an autoimmune condition. We had him tested for allergies. Oh boy. A laundry list of foods, including dairy and nuts. Time for big diet changes.
So over the years I got creative and made everything dairy free (or tomato free when avoiding nightshades) using pumpkin or squash as a replacement. He also couldn't have potatoes. So he always got carrots instead.
When he was five (after multiple rounds of testing and we'd had to carry an epi-pen for a year due to a severe nut allergy) he had more allergy testing. The new allergist took one look at him and noted that he had orange feet!! Carotenemia…an overload of beta carotene…Vitamin A Toxicity. I'm sure he was overloaded before that (why he had the eczema in the first place). But this took it to a whole new level.
We've struggled for years with him having stomach aches, up and down eating, skin issues, minor fevers, mood/behavior issues. Now we know why!
Vitamin A Toxicity in Pregnancy
When I was pregnant with my third I was being so "good" eating every nutrient dense food possible…with liver added. And a multi on top. I'm sure I was getting extremely high amounts of Vitamin A. And it's passed to baby both in utero and in breastmilk. God designed babies to detox the Vitamin A from mom since baby's liver is healthier. Great design. But not so nice for baby in this world we now live in.
So my daughter had a tongue tie, feeding issues and extreme vaccine reactions as an infant. She basically stopped eating. And of course I tried to get her back to health feeding her squash and liver smoothies!! She is now 4 1/2 and still struggles. She has complained of bone pain since she was old enough to verbalize how she felt. She has frequent stomach aches and a low appetite. Again, now we know why!
Thank goodness after a short time on the VAD diet and using our simple magnesium lotion her leg pain is gone, and she eats so well!
Of course I did not know anything about Vitamin A Toxicity back then. So when I became pregnant with baby #4 I ate the same way. So much nourishing food…or so I thought. Salads piled high with a rainbow of vegetables, avocado, fried eggs and desiccated liver. Washed down with a big glass of raw milk.
Now I'm dealing with the consequences again. Or should I say my son is. Feeding troubles from birth. Food reactions. Flat spot on his head. Weak bones. Horrible teething pain. Body tension and tongue restriction. All because I tried to follow current health advice.
Are We All Overloaded with Vitamin A?
But it didn't even start there. Like most people I've been overloaded with Vitamin A my whole life. My parents probably were too. Maybe my grandparents were too! I was born in 1980. Processed food was what everyone ate. And all processed food, infant formula, and pasteurized milk are fortified with Vitamin A.
Then glyphosate was added to everything, making it much harder for our bodies to detox Vitamin A.
So it didn't matter which extreme I was in – I was filling up on a toxin. And then passed that on to my children. Even my oldest. She was born before I had ever heard the term Real Food. But she still got the Vitamin A overload from me, then compounded with vaccines. And it impacted her neurologically.
All this to say, many people are overdosing on Vitamin A whether they realize it or not. Plus nobody is able to detox in our toxic world. That is a big problem. And it needs to stop.
How Do You Stop Vitamin A From Coming In?
The easiest way to start the process is by eliminating all supplements containing Vitamin A or D and foods fortified with Vitamin A or D from your child's diet. Immediately. They can be sneaky. Alternative milks and yogurts, flours, cereals, crackers. Not sure why our government thinks we are all Vitamin A deficient and we need it added to every food.
The next step is removing Vitamin A foods from your child's diet. Well, mostly. Unless you go to extremes like eating only beef and rice for the next six months you will be getting some Vitamin A. But the goal is to make that as minimal as possible. The less comes in, the faster it gets out. I will talk more about particular foods later.
Then you have to look at what you put on your child's body. Soap, shampoo, lotion. Even essential oils. If it comes from brightly colored plants (even green herbs) it has carotenoids and your skin will absorb it.
Another critical aspect of your child's food is to make sure it is organic. Glyphosate amplifies the effects of Vitamin A in the body. Try to avoid it as much as you can. This is particularly important when it comes to grains. Washing your produce well is also helpful.
Finally I highly recommend doing HTMA (hair tissue mineral analysis) with a skilled practicioner to find out what supplements your child truly does need short term to get in balance and to help the detox process.
Vitamin A Detox Diet
So what exactly does the Vitamin A Detox Diet look like? And how do you get started?
That's where my new book comes in! I have created a guide for parents to walk them through the process of detoxing their children.
The diet does not eliminate any major food groups. You can still eat meat, veggies (all these white ones are awesome!), fruits, grains, seeds, nuts, beans and fats. So in that sense it is quite easy. You definitely won't go hungry!
But it does eliminate a lot of foods you are probably used to eating. Like most red, orange, yellow and green veggies, pork, fish (due to contamination), dairy, egg yolks, olive oil, lard and unrefined coconut oil. In that sense it's a big change from the traditional food diet we are used to. It's hard to make that mental shift. And it can be hard in social settings.
My book has a long list of recipes and sample menus to help get you going. And it has the approved food list.
One critical aspect of the VAD Diet is protein. Your child must get adequate protein. Remember that Retinol Binding Protein we discussed in an earlier post? It is the only way to safely transport Vitamin A out of the liver. And it is a protein…so you need protein to make it. There are many sources of protein, but meat from ruminant animals is an essential one of the VAD Diet (read why here).
Getting Started on the Vitamin A Detox Diet
If you want to jump in now, a general rule is that if it's colored it's out and if it's white it's OK. This does not apply to all fruits as many get their color from substances other than beta carotene. But some do, like peaches and nectarines. Most grains are OK and most meat is OK (except pork). There are also some foods that don't contain Vitamin A but do impact the body's use of Vitamin A, like certain nuts and fats. So it is important to get the full diet.
The Vitamin A Detox Diet is generally a very short process for kids. I'd say a few weeks to a month or two is all that is needed.
Kid-Friendly Vitamin A Detox Diet Foods
I'll keep sharing some new Vitamin A Detox Diet recipes.
My four-year old has been the easiest to feed on the VAD Diet. She asks for my food all the time.
Some of our favorites right now are:
roasted parsnips
crinkle cut homemade french fries (yes, you can eat white potatoes!)
peeled cucumbers or rice crackers dipped in homemade hummus
rice and beans
baked or roasted chicken dipped in honey
roasted cauliflower
roasted green cabbage
gluten-free banana bread topped with sunbutter or butter
fresh fruit (blueberries, strawberries, raspberries, grapes, bananas, pears, apples, cherries, white peaches)
grassfed beef meatballs