This post may contain affiliate links which won't change your price but will share some commission.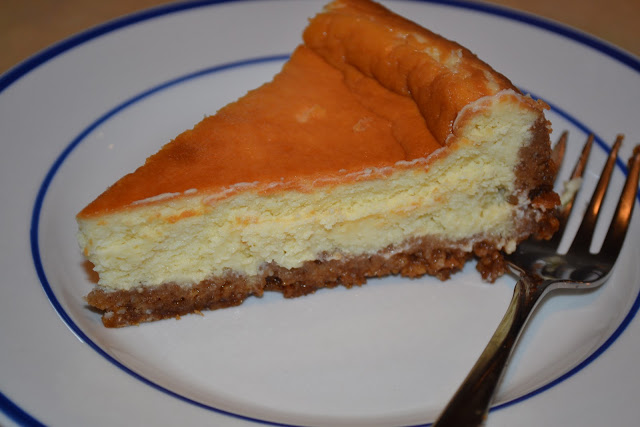 I love cheesecake. It comes in a close second for my all time favorite food. Right behind ice cream. I don't make it often. And I haven't made it in quite some time. I've been wanting to make a REAL cheesecake for a while. But it takes work to make all of the ingredients before you can even make the cheesecake.
This week it just so happened that we had a lot of yogurt (I made a little extra to use up milk) and some sourdough graham crackers that needed to be used up. So it was the perfect time to experiment.
I used the yogurt to make real cream cheese (next time you want to buy cream cheese at the store check the ingredients…you might be surprised by the fillers/thickeners they add). I also made raw sour cream this week.
Then it was cheesecake time.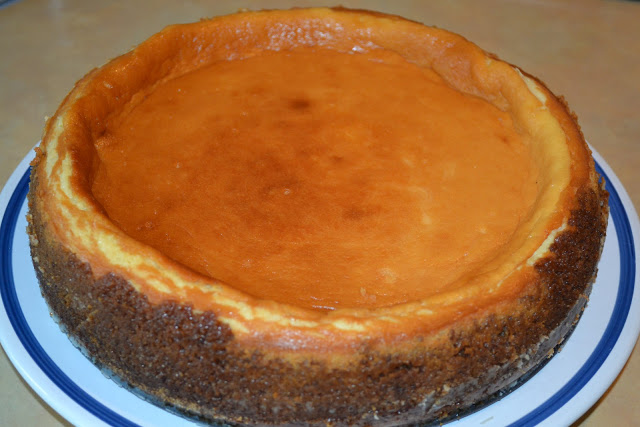 The outcome…AMAZING! Real cheesecake with totally real ingredients. I'm in heaven 🙂 It did turn out a tiny bit softer than I like (I like my cheesecake really firm…like almost crumbly…I usually let mine sit in the freezer for a while :). But for most people it would be just right. I scaled back the cream in the recipe below. You could also add a little arrowroot, cornstarch or AP flour to make it thicker.
This is about as real as it gets when it comes to dessert. A totally from scratch cheesecake. A cheesecake I feel comfortable calling healthy 🙂 It's great on its own…even better with some homemade fudge sauce over top.
This can be made gluten free by using gluten free or soaked gluten free graham crackers. Or you can make a special holiday dessert using pumpkin spice graham crackers or chocolate graham crackers!
Do you love cheesecake? Give this version a try. Let me know if you love real cheesecake as much as I do.
This post is linked to Fat Tuesday and Real Food Wednesday.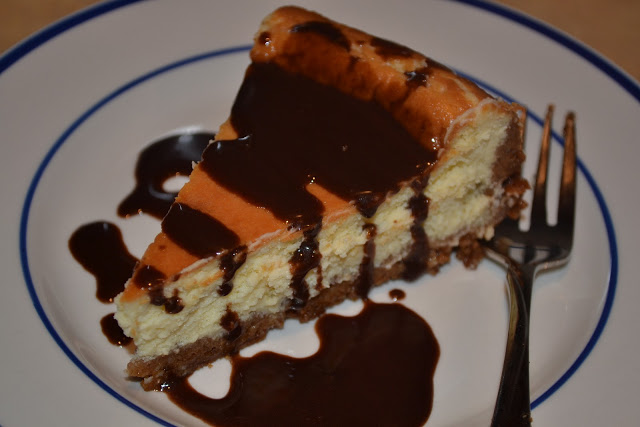 Cheesecake
2 cups graham cracker crumbs (whole wheat, sourdough, gluten free, soaked gluten free, pumpkin spice, chocolate or soaked) (pulse in food processor to make crumbs)
1 1/4 cup cane sugar
1/2 cup butter or coconut oil (or a combination)
2 cups homemade cream cheese (It took about 1 1/2 qts. of homemade yogurt to get this)
1 cup homemade sour cream
3 eggs
1 tsp. vanilla extract
1 Tbsp. lemon juice (optional)
Melt the butter and stir into the crumb mixture. Press into the bottom of a greased 9″ spring form pan. Set aside.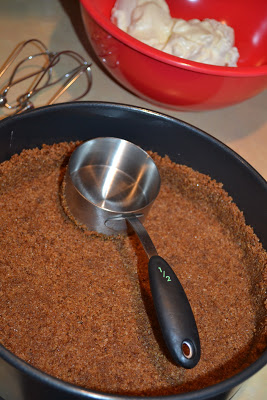 Using an electric mixer blend the cream cheese, sour cream and the remaining sugar until creamy, wiping down the sides of the bowl and the beaters with a spatula to incorporate all the cheese. Add the eggs 1 at a time, beating after each addition. Slowly stir the lemon juice into the cheese mixture.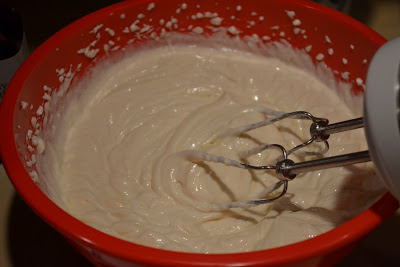 Meanwhile preheat the oven to 350. Place aluminum foil under the springform pan and up the sides (this prevents any water from getting in). Put the prepared pan into a slightly larger rectangular pan. Pour cheese mixture into the springform pan. Set both pans in the oven and fill the rectangular pan with water, half way up the sides of the round pan. Bake until firm and golden brown, about 90 min. Turn off oven, open slightly and let cheesecake set for about 30 min. Remove from water bath. Let cool on counter for 60 min. Cover and let cool completely in refrigerator (at least 4 hours).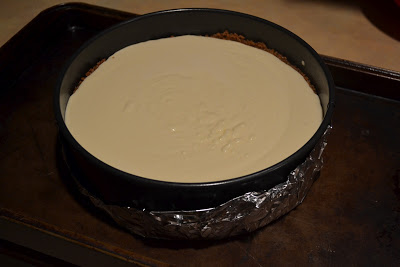 Place cheesecake in the freezer for an hour or two before serving to make it really firm.