This post may contain affiliate links which won't change your price but will share some commission.
Strawberry rhubarb cheesecake is a a rich and creamy dessert that is gluten and nut free and combines the flavors of spring and summer.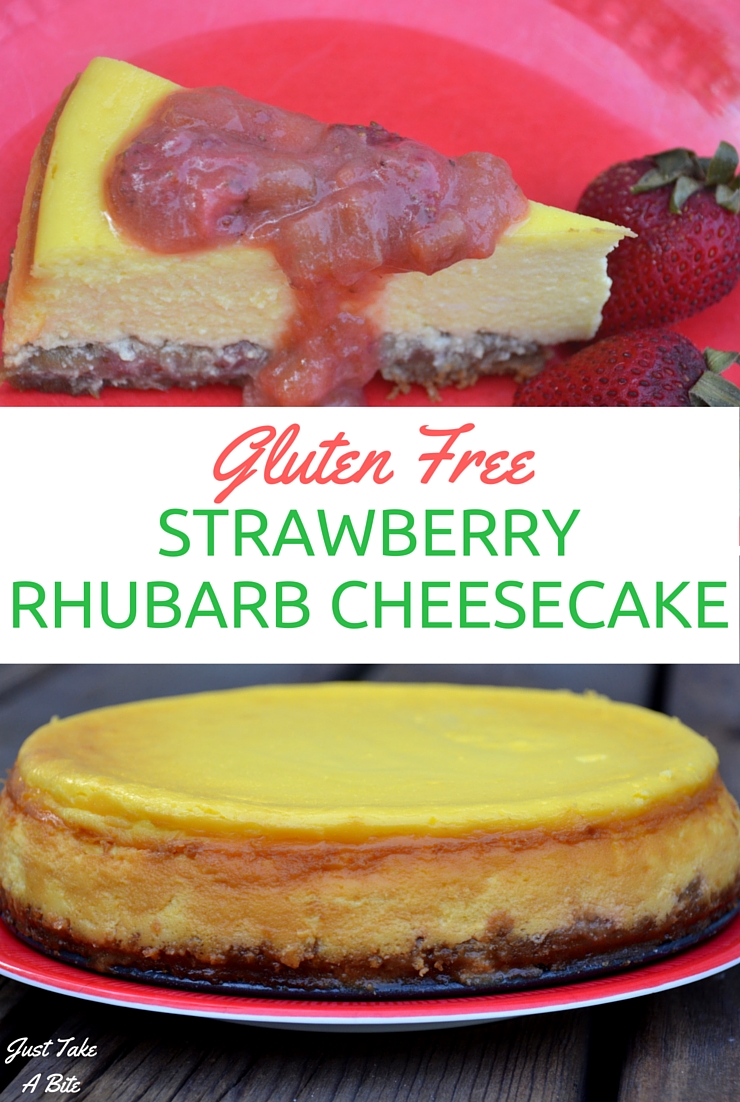 For Father's Day this year I decided to spoil my husband with a special dessert. He's always interested in new recipes that utilize the rhubarb from our garden. So I combined that with one of our favorite treats – cheesecake!
This cheesecake is packed with flavor. The rhubarb is slightly tart, the strawberries are sweet, and the cheesecake is slightly tangy. Combined you get a perfect balance.
One of the best parts about this dessert is that you can make it 100% from scratch, right down to the graham cracker crumbs and cream cheese. All of the components of the cheesecake can be made in advance. Then the assembly is quite simple.
I also love that you can make this cheesecake gluten and nut free. I use my homemade gluten free graham crackers for the crust. If you want to soak your grains I have a soaked version as well. If you don't need it to be gluten free you could also make whole wheat, soaked whole wheat or sourdough grahams. I make homemade cream cheese from yogurt and sour cream from raw cream.
Strawberry rhubarb cheesecake does take a little planning and preparation. But each component requires very little hands on time. You just have to start a day or two (or even a week if that works best for your schedule) in advance of when you want the cheesecake to be ready. It makes a wonderful treat for a special occasion. Even kids will love it!
The next time you want an extra special spring confection try strawberry rhubarb cheesecake. You can spoil one (or all!) of the special dads in your life with this delicious dessert.
Gluten Free Strawberry Rhubarb Cheesecake
2014-06-09 12:54:16
A rich and creamy cheesecake that is gluten free, totally from scratch and perfect for spring.
Cheesecake
1/2 recipe graham crackers (about 2 cups crushed, see links in post for recipes)
3 Tbsp. organic cane sugar, sucanat or coconut sugar
6 Tbsp. butter, melted
2 cups cream cheese at room temp (preferably homemade - see link in post for recipe)
1 cup sour cream (preferably homemade - see link in post for recipe)
1 1/4 cups organic cane sugar, sucanat or coconut sugar
3 eggs
1 tsp. vanilla
1 Tbsp. organic lemon juice (optional)
Strawberry Rhubarb Filling/Topping
3 cups total of strawberries and rhubarb, diced
2 Tbsp. butter
1/4 cup organic brown cane sugar, sucanat or coconut sugar
Instructions
Prepare the graham crackers, cream cheese and sour cream.
Pulse the graham crackers in a food processor or blender to make crumbs.
Cook the strawberries and rhubarb in 2 Tbsp. butter and 1/4 cup sugar in a small pan for about 10 minutes, until soft.
Divide the strawberry rhubarb mixture - 1/3 for the filling and 2/3 for topping. Let cool.
When ready to prepare the cheesecake
Heat oven to 350*F.
Combine the graham cracker crumbs, 6 Tbsp. butter and 3 Tbsp. sugar. Press mixture into the bottom of an 8" or 9" spring form pan.
Bake the crust for 10 minutes.
Gently spread 1/3 of the strawberry rhubarb mixture onto the crust.
In a large bowl beat the cream cheese, sour cream, vanilla and 1 1/4 cups sugar until smooth.
Add the eggs one at a time, blending well after each addition.
Add lemon juice if desired.
Pour the cheesecake batter over the strawberry rhubarb filling.
Place the spring form pan in a large pan.
Fill the bottom pan half way with water.
Bake the cheesecake for 90 minutes.
Turn the oven off and allow the cheesecake to set in the oven for 30 minutes.
Remove the cheesecake from the oven and chill in the refrigerator for at least 4 hours before serving.
Top slices with the remaining strawberry rhubarb mixture when serving.
Notes
The graham crackers can be prepared up to 3 weeks before making the cheesecake.
The cream cheese and sour cream can be prepared up to 1 week before making the cheesecake.
Any ratio of strawberries and rhubarb will work. I used 2:1 rhubarb to strawberries to let the rhubarb flavor stand out.
The strawberry rhubarb filling is optional. You can make the cheesecake without the filling and just use the topping.
The topping can be served cold, room temperature or warm.
If you like a very firm cheesecake chill it in the freezer for about an hour before serving.
Just Take A Bite https://justtakeabite.com/
This post is shared on
Allergy Free Wednesday
.