This post may contain affiliate links which won't change your price but will share some commission.
Missing tacos due to dietary restrictions? Bring back taco night with this simple night-shade free cucumber salsa. Free of allergens and nightshades, and low in Vitamin A, it's sure to be a hit!
Sometimes when I'm trying to meal plan and just can't think of anything to put on the menu, I crowd source. In other words, I ask my kids.
It's inevitable that at least one of them suggests tacos (though I try not to bore my husband and actually serve them every week).
It's usually my son making the suggestion. He has been my taco meat chef since he was six, and jumps at the chance to cook his "famous" taco meat (you can get his taco seasoning recipe here).
Taco night has always been one of my favorites too, from childhood until now. I mean, who doesn't love a good taco?
Vitamin A Detox Diet Tacos
Our tacos have certainly evolved over the years, through all sorts of food allergies and dietary restrictions. These days taco night is a bit more challenging on the Vitamin A Detox Diet. No tomatoes, peppers, avocado, or cheese.
I know that may not sound like much is left.
But we still have delicious tacos regularly!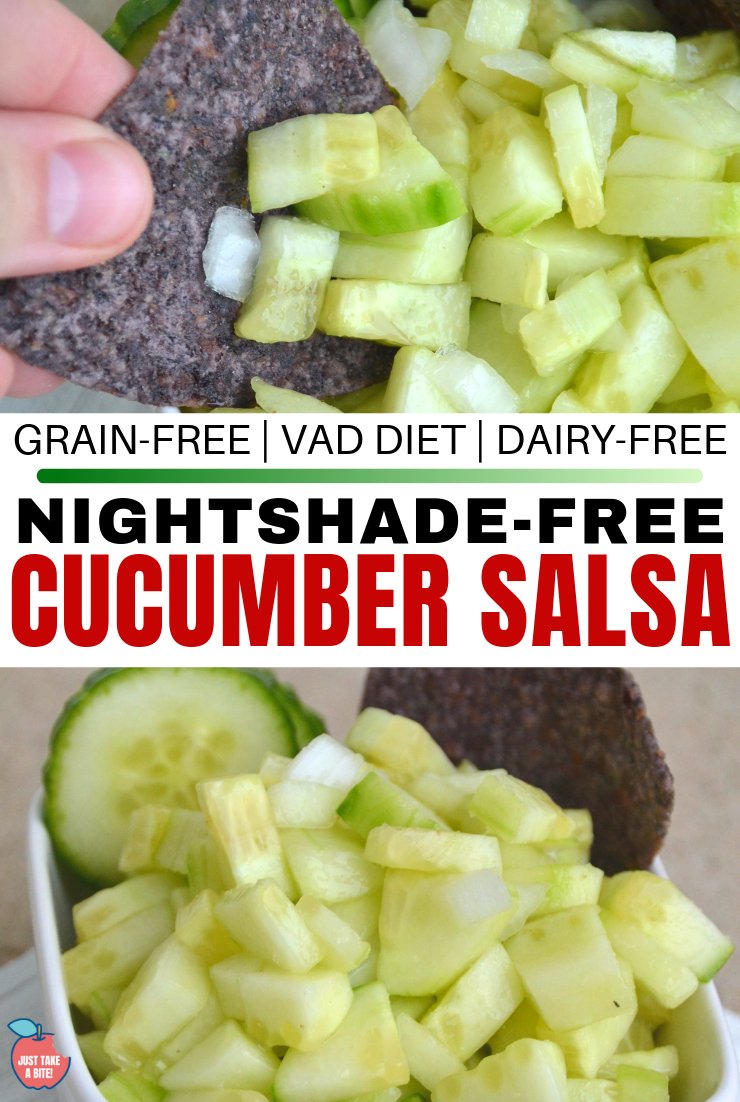 One key component is this nightshade-free cucumber salsa.
Not only is it easy to make, it's totally delicious! Even my pickiest eater loves it.
Nightshade-Free Cucumber Salsa
There is no cooking involved to make cucumber salsa. The most work you'll have to do is peel and chop a cucumber. Or better yet, delegate it to your kids. My oldest loves to make cucumber salsa for the family when we're having tacos.
---
Teach your kids to cook with the Kids Cook Real Food eCourse!
---
Once the veggies are prepped you just mix all of the ingredients in a jar and let it chill for a few minutes. So, you can still have delicious salsa even if you don't remember to make it until fifteen minutes before dinner!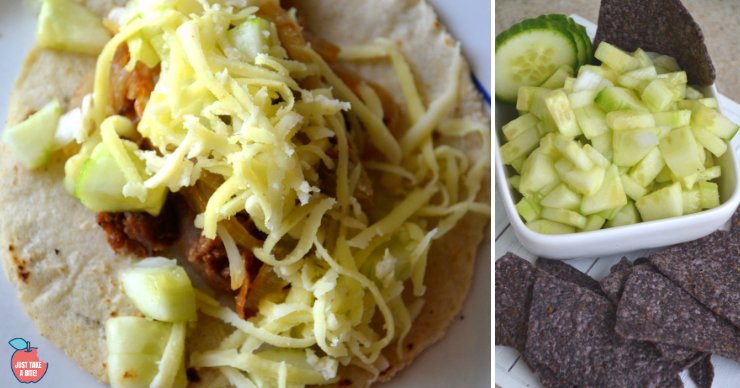 This nightshade-free cucumber salsa tastes amazing as a dip with organic tortilla chips.
Most of the time we use it on tacos, taco bowls, or nachos (topped with this gooey dairy-free cheese sauce!).

What is on VAD Diet Tacos?
For VAD Diet-safe tacos we use either organic blue corn hard shells (I like this brand) or homemade white corn soft shells, and fill them with seasoned ground beef or chicken.
Toppings include:
Cucumber salsa
Grated zucchini cheese (grab the recipe here)
Sour cream (my kids can have a small amount of cream)
Black beans or refried pinto beans (I cook them in the Instant Pot)
Our tacos are simple, but so, so delicious!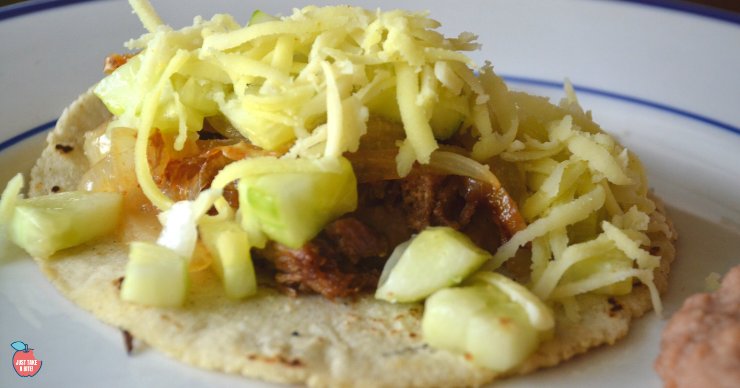 What Are Nightshades?
Most healing diets eliminate nightshades. These include tomatoes, peppers, eggplants, and potatoes, plus a few other less-common foods like goji berries, ashwagandha, Cape gooseberries, ground cherries, and garden huckleberries.
For many people nightshades are a pain – literally. Nightshades cause calcinosis, a calcification of soft tissues, due to calcitriol. Calcitriol is a very potent hormone, possibly the most powerful hormone in your body!
Calcitriol tells your intestines to absorb calcium. Too much can quickly lead to hypercalcemia. This is the cause of calcium deposits in your soft tissue, also known as joint pain, muscle stiffness, arthritis, coronary artery disease, and more.
If you struggle with any type of chronic pain or weakness, consider cutting nightshades out of your diet. Or if you have issues with osteoporosis you might want to consider eliminating nightshades as well.
Here is a a great article on nightshades if you want to read more!
We do still eat some potatoes (though not if they are green or sprouting!). But we avoid all of the other nightshades.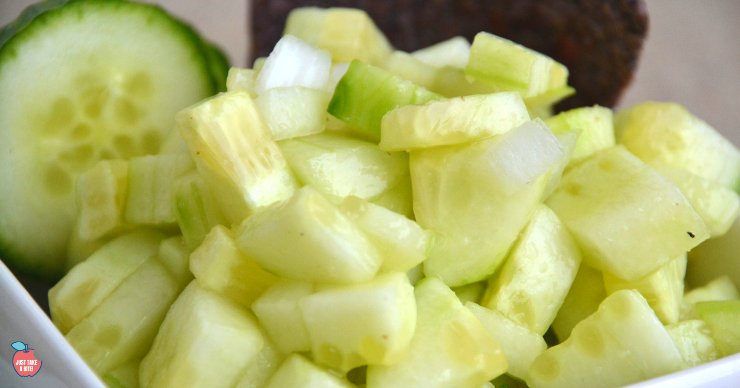 Salsa Without Tomatoes
Now even if you are nightshade-free you can enjoy chips and salsa or everyone's favorite taco night with this super simple cucumber salsa. Having salsa without tomatoes is totally doable and delicious.
What is taco night like at your house? What are your favorite toppings?
Nightshade-Free Cucumber Salsa (VAD Diet)
A quick and easy salsa free of nightshades.
Ingredients
2

cups

cucumber

peeled and diced

1 1/2

tsp.

apple cider vinegar or white vinegar

3/4

tsp.

salt

1/4

tsp.

garlic powder of 1 clove fresh garlic, minced

1 1/2

tsp.

organic cane sugar

1/4

cup

white onion, diced

optional
Instructions
Combine all of the ingredients in a jar.

Mix and chill for at least 10 minutes.

Store in the refrigerator for up to a week.