This post may contain affiliate links which won't change your price but will share some commission.
Summer preservation just got a little easier. This pectin-free easy strawberry freezer jam is the perfect way to use fresh strawberries. Just FOUR real food ingredients!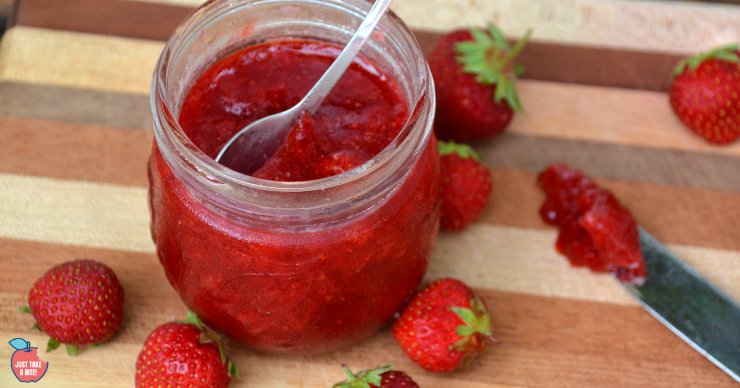 You know summer has arrived in Michigan when strawberries are in season. It's an exciting time of year! But at the same time it means preservation season has also begun.
For me this lasts from June to November. Literally half of the year I am preserving food for the other half of the year! It's a lot of work, but so worth all of the effort.
How to Preserve Strawberries
I'm always so thankful that we kick off preservation with fruit like strawberries. I can ease into it instead of jumping right into the labor intensive canning. Fresh strawberries are so easy to work with. Simply wash, hull and freeze. We usually freeze at least four gallons of strawberries to use all winter in yogurt, smoothies, and muffins.
While the strawberries are still fresh I like to make a lot of strawberry jam. It has recently become my preschooler's favorite food. Our homemade gluten free bread toasted with butter and strawberry jam. No other flavor. Only strawberry.
How to Make Pectin-Free Strawberry Freezer Jam
There are so many ways to use strawberries when they are fresh. There are even plenty of ways to use them once they are frozen. But one of the best ways to use them, fresh or frozen, is by making strawberry jam!
I'll confess. I've never been that great at making jam.
I followed recipes exactly. I bought various types of pectin. It just never seemed to turn out well. I think my husband was starting to wonder if I would ever make jam that wasn't like liquid or totally solid.
So I created my own recipe for pectin-free easy strawberry freezer jam. And it is amazing!
I love this recipe because you don't need pectin (the debate is still out on whether or not pectin is really that great for you). Instead it uses grass-fed gelatin (Use the code TAKE10 to get 10% off gelatin HERE).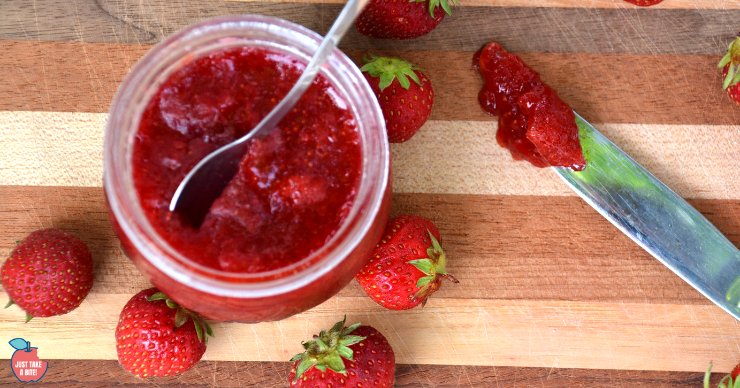 How to Stock Your Freezer with Jam
This pectin-free strawberry freezer jam recipe makes about five half-pints of jam. Since it only takes about fifteen minutes to make you can easily cook several batches in one day while you have fresh strawberries.
Pectin-free easy strawberry freezer jam is great on toast. But you can also spread it on pancakes, mix it into yogurt, or even use it as an ice cream topping! My kids like to eat it by the spoonful. It's that good.
Since creating this strawberry jam recipe I have upped my game in jam and jelly making! We now enjoy homemade pectin-free concord grape jelly, 5 minute peach jam, and red plum raspberry jelly! They are all pectin free!
Whether you still have fresh strawberries available or you already have your stash in the freezer, try making pectin-free easy strawberry freezer jam.
You'll have a little taste of summer ready in your freezer all year long.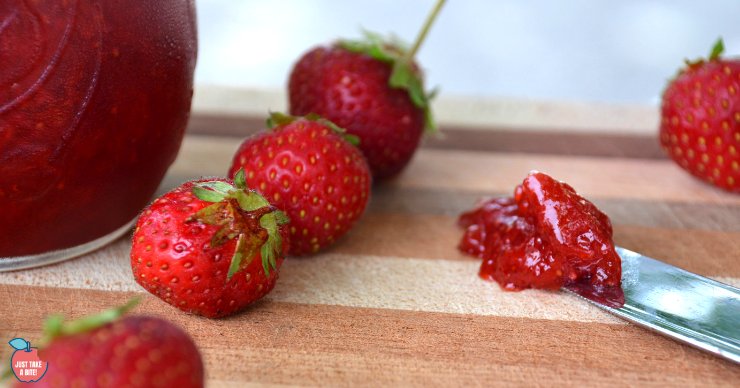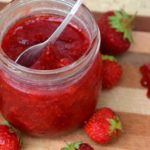 Pectin-Free Easy Strawberry Freezer Jam
Simple strawberry freezer jam with only four ingredients and no pectin.
Ingredients
1/4

cup

organic lemon juice

3 1/2

tsp.

grass-fed gelatin

3/4

cups

organic cane sugar

or coconut sugar or honey

5

cups

strawberries, washed, hulled and roughly chopped

fresh or frozen
Instructions
In a medium sauce pan combine the lemon juice and gelatin. Let sit 2 minutes

Add the sweetener and strawberries.

Cook over medium heat, stirring and mashing berries with a potato masher, for about 10 minutes.

Pour the jam into half-pint jars.

Chill jam in the refrigerator until set.

Use the jam fresh or freeze until ready to use.
Recipe Notes
This makes about five half-pints.
If using frozen berries, thaw them at least partially before making the jam